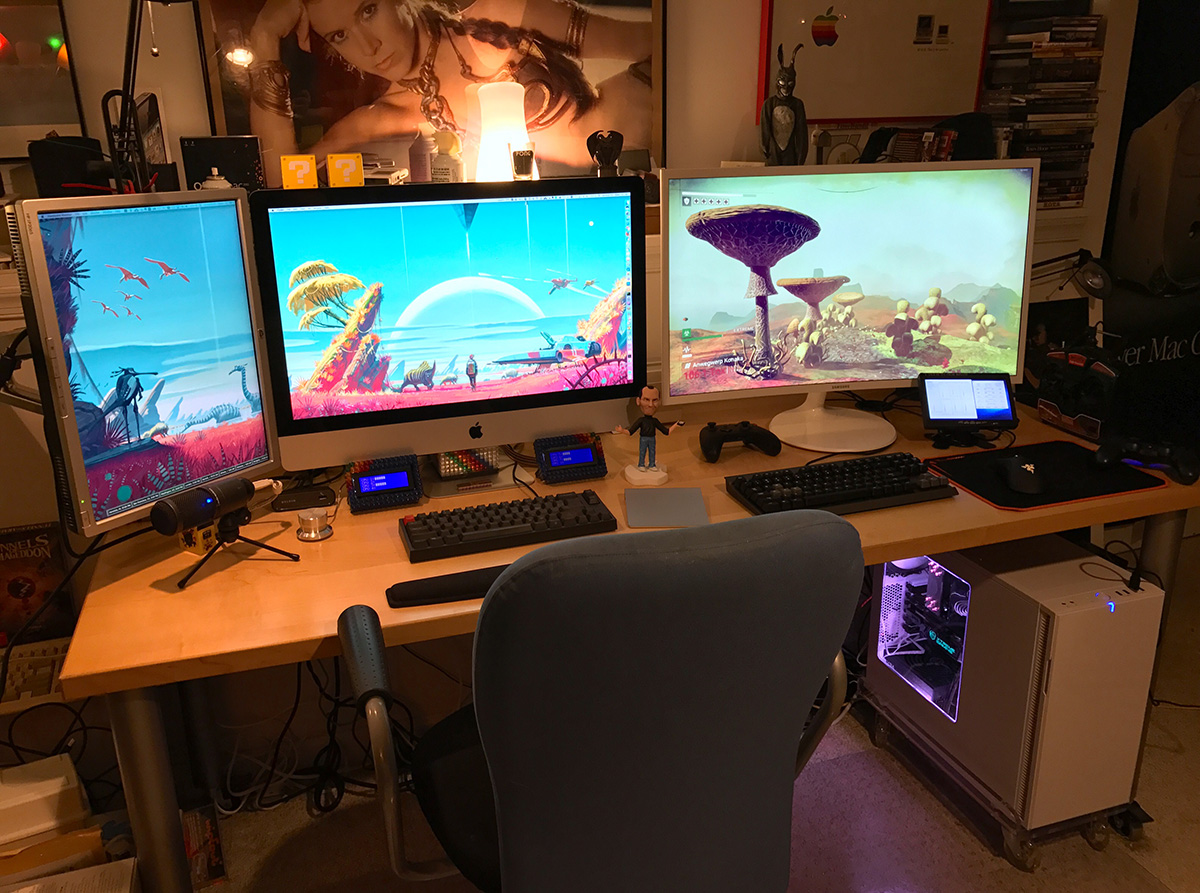 A month ago I shared my feelings about Hello Games' space exploration game No Man's Sky. (Spoiler: I loved it — and still do, about 150 hours in.) In the post I mentioned that parts were in the mail for a high-end gaming PC build that would allow me to enjoy NMS at 60fps with adjustable POV angle as well as mods. Well, the parts arrived, I built the PC, and I wanted to check back in with a brief report. (Apologies for two non-retro-related posts in a row.)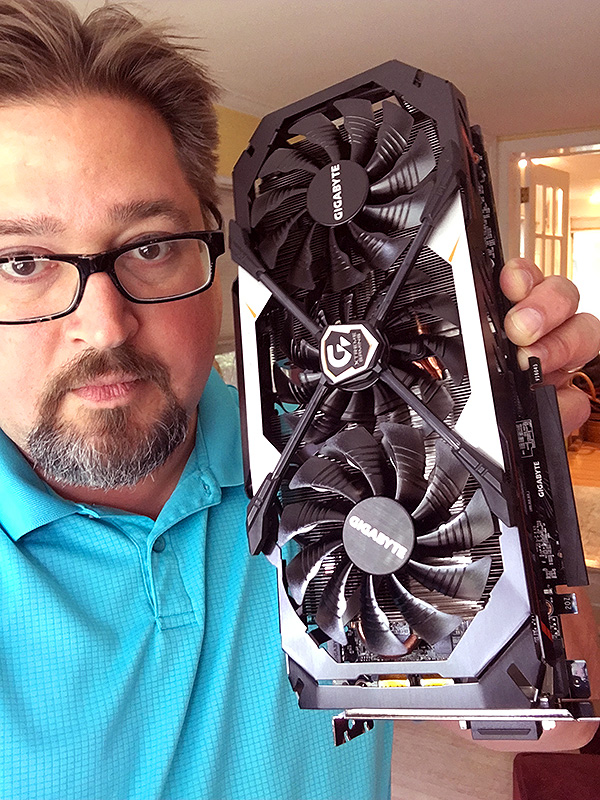 With the exception of the retro-recreation of my circa 1996 5×86-based PC that I put together three years ago, this is the first PC I've built in 18 years. The last was an AMD K6 233-based machine sporting (originally) the ill-fated 3dfx Voodoo Rush board (later a Voodoo II). I assembled it in 1998. I went with Asus for the motherboard on that K6, the recent 5×86 rebuild, and this Skylake gaming PC. They know how to make a motherboard.
It's an Intel Skylake Core i7-6700K 4.0GHz + Nvidia GTX 1080 system running on the Z170 chipset (full parts list here). The tower is on the floor and on the desk is a curved Samsung 32-inch 1080p display plus a 7-inch secondary display that I use to monitor CPU load and temperature so I can see what kind of a workout games are putting the system through. The curved primary display adds to the "cockpit" feel of the setup to a surprising degree. One detail I'm particularly happy about is that I was able to put the 10,000RPM, 6Gb/s SATA WD VelociRaptor that booted my old Mac Pro back to use as a data drive in this build. The system is running Windows 10 Pro 64 and gaming is really all I'm using it for; in all other regards I'm an OS X (/ UNIX) guy. I pulled the ten-year-old 30-inch Apple Cinema Display off the desk in order to make room for the new system, so it's down to one external screen on the iMac.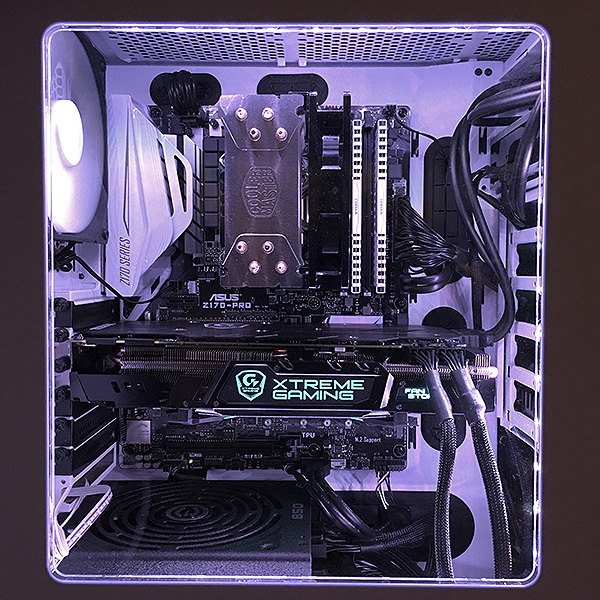 Although I'm primarily spending time in No Man's Sky on the new PC, I'm having a lot of fun with a few other titles as well — Witcher 3, Forza Horizon 3, GTA V, and a couple of others. The system is definitely "VR ready" and I look forward to eventually gearing up for that.
It's a lot of fun to build a machine, and I'm glad to have had another go at it after all these years. PCPartPicker was a big help in finding the right components, and I ordered through NewEgg. It all went smoothly. For the last few builds I did, way back when, I went through Treasure Chest / TC Computers. Anybody remember them?
Immediately after putting the case back together at the end of the build, my daughter sat down and started putting the system through its paces on the internet. It definitely serves up cat photos like a flash!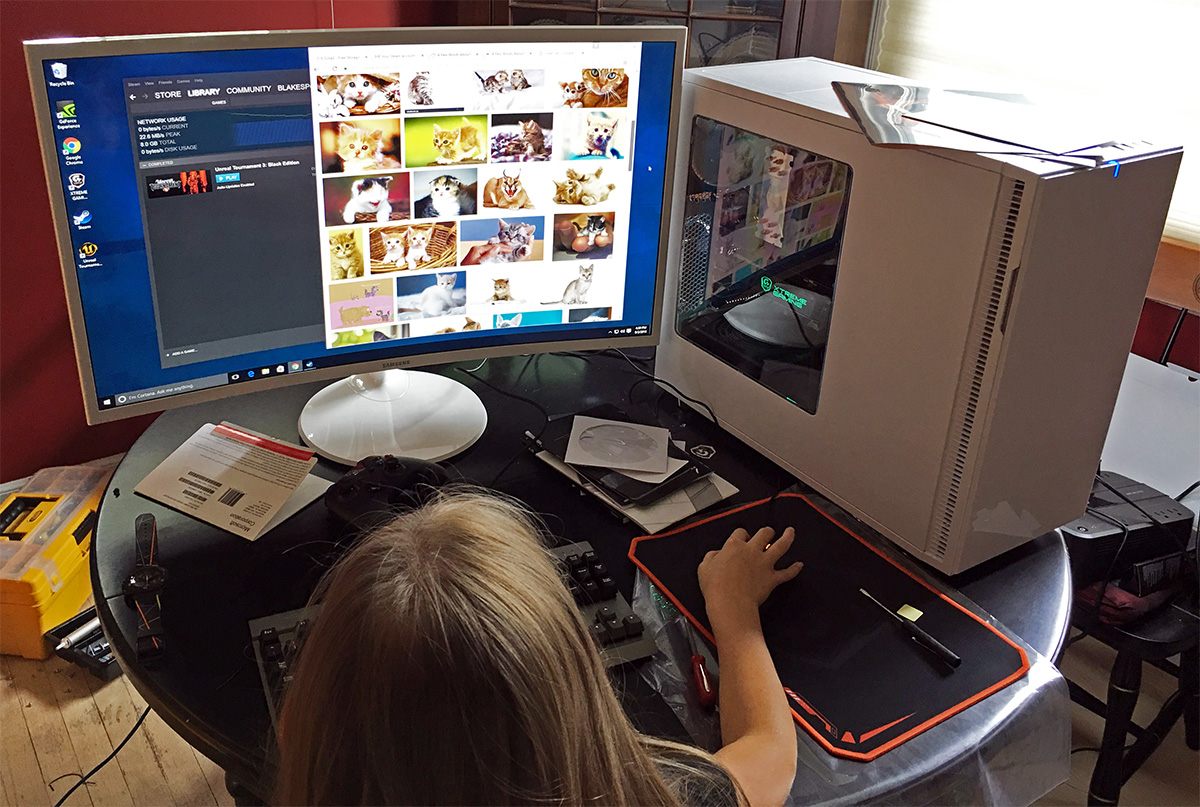 ---
UPDATE [10/27/2016]: This newly built system just went through an "upgrade" that, in the end, wasn't. Sounds odd, right? That's why I thought I'd add it to this post.
A couple of weeks ago I saw a particularly striking 3440×1440 (21:9) screenshot of a No Man's Sky planetary scene and it got me thinking about higher resolution displays. As mentioned above, I'm running a 32-inch, curved Samsung 1920×1080 60Hz display, and I've really been loving the curved effect, it tangibly adds to the immersion in first-person games. But, admittedly, the rendered display is somewhat pixelated, being 1080p at that size, sitting close to your face on a desktop.
So, I set about looking for a curved 2560×1440 (16:9) display, but was disappointed to discover that none exist. It turns out that, at the time of this post, curved 1440h displays are all 3440 pixels wide — that's a 21:9 aspect ratio. That's so wide that vertical space is sacrificed; a 34-inch screen at this resolution is ~12 inches tall. That seems silly to me — too short. So, in order to get a 1440h 16:9 display, non-curved screens were the only option available. After doing some research and noting that my GTX 1080 video card is capable of Nvidia's GSync framerate sync technology, I purchased what I determined was the highest quality 2560×1440 GSync display made, the ASUS PG279Q. Its a 27-inch LCD which sports an IPS panel that runs at a refresh rate of 165Hz.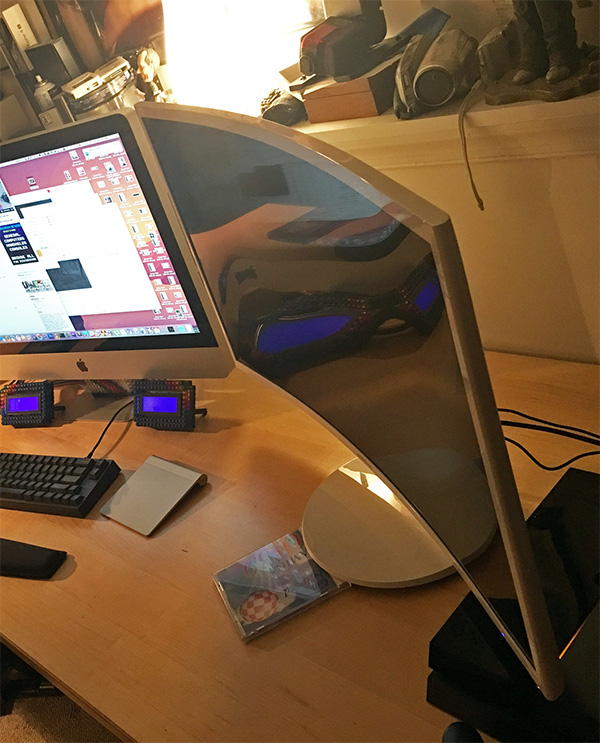 When the screen arrived, I set it up on the PC and adjusted driver settings accordingly. I ran through a few games to test it out and I have to say seeing a 3D game refresh at 120Hz+ is a pretty amazing experience. However, in No Man's Sky (the game I built this PC to play) I instantly felt that the edges of the screen were "leaning away from me" when I panned my view left and right out of the cockpit window, being used to playing on that curved screen. Also, 27-inches is really a lot smaller than 32, on the desktop.
So, while objects in the distance were much more detailed at the higher resolution, the smaller screen and its lack of a curve delivered a lesser gaming experience in No Man's Sky as compared to my original display. The 90-120fps performance was quite apparent vs locked 60fps and fairly amazing, but even this did not make up for the flat screen and smaller size. What's more, the curved, glossy Samsung seems to have more color "punch" than the ASUS, which meets gaming well. Having arrived at these conclusions, I requested an RMA and sent the PG279Q is on its way back to NewEgg for a ($800) refund.
TL;DR – I decided a $350 curved, 1920×1080, 60Hz VA-panel display delivers a better experience than an $800 flat, 2560×1440, 165Hz IPS-panel display (for the game(s) I prefer).
UPDATE [5/10/2018]: Bringing this system build post up to date, in the last weeks of 2016 I began trying out my 30-inch Apple Cinema Display that has a native resolution of 2560×1600 on the Skylake PC. While I, again, felt the lack of a nice, enveloping, curved screen surface on this display, I did appreciate the notable bump in clarity that it offered above the 1920×1080 of the Samsung and the 30-inch screen felt notably larger than that of that 27-inch ASUS I tried out briefly. I found myself running in that config for a few days and liking it, though that 30-inch ACD was about 12 years old and so it had dimmed to a notable degree and also had a relatively slow refresh latency.
So, in January 2017 I purchased a 32-inch ASUS PB328Q display which supports 2560×1440 resolution at 75Hz over DisplayPort. (At the time, there did not exist any 32-inch, curved, 2560×1440 displays, and "Ultrawide" 3440×1440 displays did not interest me.) I have been using this display ever since, and in June of 2017 I took another upgrade step and replaced the Gigabyte GeForce GTX 1080 Xtreme Gaming card with an EVGA GeForce GTX 1080 Ti FTW3 video card, which is also factory overclocked. This upgrade was to help the GPU-intensive No Man's Sky with locked 60/75fps at 2K resolution. It runs very smoothly at this configuration with nearly all in-game settings maxed. The only other system upgrade since the last update to this post was the addition of a 1TB Samsung SSD to the existing 256MB SSD. Details of the current system configuration can be seen here.