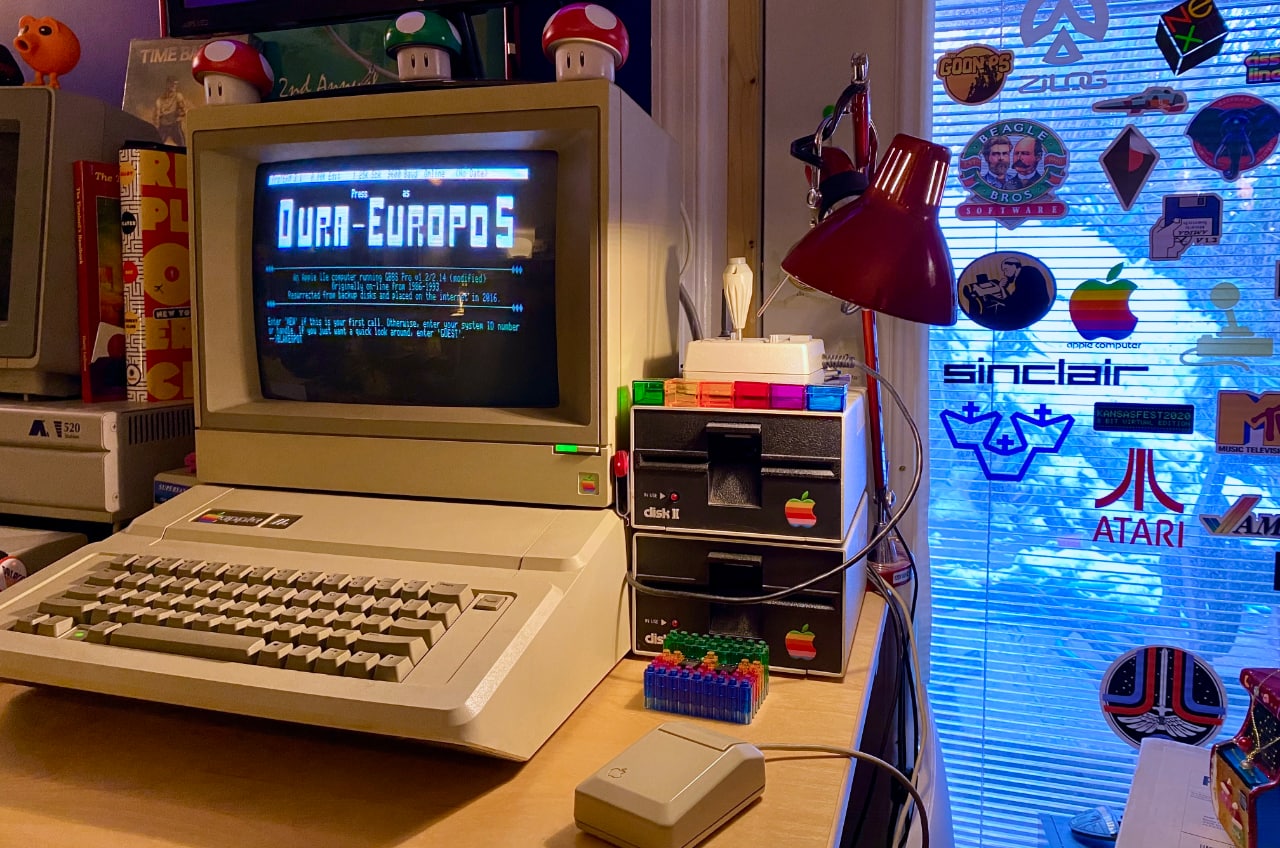 I logged into my first dial-up electronic Bulletin Board System in the spring of 1986 at the house of a friend I was visiting. His family had an Apple IIe setup with an Apple Modem 1200, the kind that sat under a desktop phone, at one end of their den. He was a fairly avid BBS user and when I expressed an interest he logged in to a local BBS called OxGate and showed me around. (OxGate ran the RBBS software on a flavor of RCP/M, a multiuser CP/M-like operating system, and was located in Grafton, Virginia.) On his computer I setup an account and logged in. And I was off… A few months later, for my 14th birthday, I asked for and was given a Prometheus ProModem 1200A modem (thanks for the image, Tony) for my own IIe and was able to dial in on my own. Until I was able to have internet access at home (in 1994 via a dail-up PPP TCP/IP connection from a local ISP known as Widomaker over a Cardinal 28.8Kbps modem), dial-up BBSing was my favorite computer activity. That's a solid 8 years.
It's sad to recall just how quickly and completely I (we?) jumped from local BBSs to the web, when it became accessible from home, and didn't look back. I finally did look back, but not for about 25 years.
When I think back on those days, I recall the most pleasant times on a BBS were rainy days — or, better, snowy days — when there wasn't much you could do outside, but you could have a all kinds of fun discussing this or that in the message bases on the numerous BBSs in the local area code. (This was when it was all land lines and long distance charges were a thing). And most of what we discussed was the computers we were using to dial in on, and their particular attributes. Yes, BBSs were pretty geeky places.
On such days, looking out the window at the falling snow while posting online made the whole thing seem rather cozy.
And so, when the northern Virginia area was hit hard with a heavy snow last week and I logged into a few telnet BBSs on my current Apple IIe, I found myself, again, looking out at the snow and it kind of took me back to those loveliest BBSing days of the long past. Feeling that same winter cozy vibe, I took a photo and wanted to share it here to try and convey some of that "small world" magic that I'm sure more than a few readers once knew. (I used Paul Rickard's WiFi232 serial-to-WiFi "modem," which I've written about in the past along with a demo video, to get the IIe online.)
And, yes, BBSs are still a thing. These days they're more telnet than dail-up based, but they're out there and many of them are running on vintage hardware, interfaced this way or that to the 'net.
If you're interested in giving BBSing a shake, have a look at my little BBSing tips page and checkout the the Telnet BBS Guide for the long list of boards that are waiting for your "call." Grab some hot cocoa and get online! Or, if you'd just like a quick glimpse, my BBSing photo gallery shows a variety of machines caught in the act.
Feels related, somehow:
Update: People have been asking about the sticker door. Here you go. Most of them came from Reddit's r/Retrobattlestations competitions!