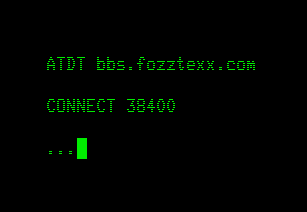 Over the past year or so, I've been loading up SyncTerm and logging in to various telnet-accessible BBSs here and there — nothing too consistent. But, thanks to a piece of kit released by Paul Rickards, over the past month I have become fully immersed in the telnet BBS scene. Paul's WiFi232 Internet Modem is an inexpensive device that lets you BBS the way it was meant to be done, on hardware from the golden age of the Bulletin Board System.
In a nutshell, it works like this: The WiFi232, as far as your vintage computer is concerned, is a Hayes telephone modem. It accepts standard AT commands as well as AT commands that go rather beyond the standard Hayes commandset. The purpose of the device is to act as a bridge between your serial port and your local WiFi router. It has a 25-pin RS-232 data interface and a Mini-USB connector for power — it should work with any computer sporting a standard serial port.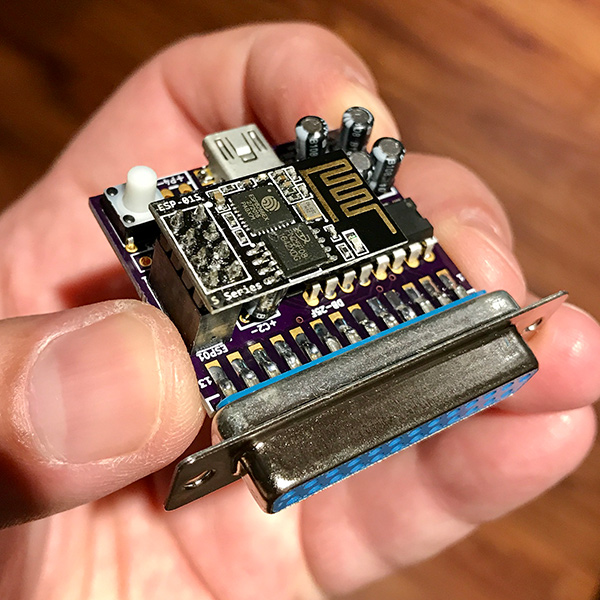 The WiFi232 is configured by connecting to the device's built-in web server and loading the configuration page or by issuing extended AT configuration commands. For example,
AT$SSID=MyWifiHotspotName
points the device to your WiFi hotspot. Once things are configured (it supports 300 to 115,200 baud), just load up your favorite terminal program, type:
ATDT bbs.myfavbbs.com
and the WiFi232 "dials" into that telnet BBS. Your vintage computer thinks its talking on the phone.
I had early access to the device (well, I have two) and have been enjoying them on my Apple //c at the office as well as my enhanced Apple IIe, Amiga 1000, and TI-99/4A (recently upgraded to 80-columns with an F18a FPGA video board (that's a blog post for later)) at the house. The WiFi232 is easy to move around, works exactly as advertised — it is an oldschool modem to my vintage systems — and gives me a compelling, new reason to spend time on a variety of machines in my collection.
I hope the demo video I put together gives a taste of what the WiFi232 enables, and I wholeheartedly recommend that any vintage computing fan grab one and get back online.
Here's a list of telnet BBSs to get you started.
UPDATE: The WiFi232 device is no longer being manufactured. See my BBSing resource page for a list of alternative devices for a variety of platforms.