Nearly two years ago I got into mechanical keyboards (real keyboards, proper keyboards) in a pretty big way. In order to truly enjoy the experience of typing on these quality boards, I decided to learn to type "properly," as opposed to my odd (but fast) most-of-left-hand + one-finger-on-right-hand approach, and made a post about it. Not long at all after that post, I was indeed "typing properly." It was a lot easier to learn than I imagined it would be.
As I mentioned in that post, I had ordered a Realforce 87U keyboard featuring Japanese Topre capacitive keyswitches, and I received it soon after. It is a keyboard that has an exceptional feel that's pretty hard to describe. (I soon modded it out with a partial set of orange keycaps.) It has been my primary keyboard for most of the time since that post.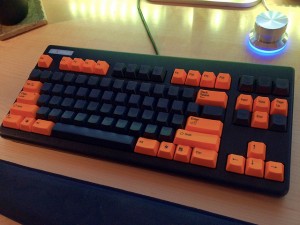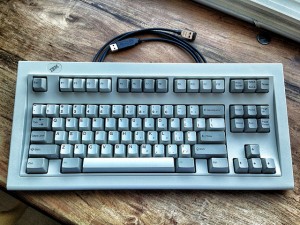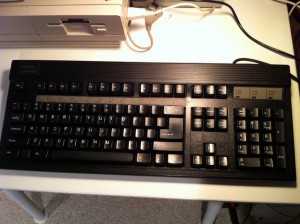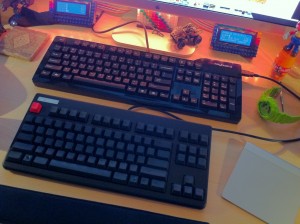 Since then, I've also picked up a Unicomp Classic 104 with buckling springs (basically a modern-day IBM Model M), refurbished the old Focus FK-2001 with Alps switches that I used on my 486 NEXTSTEP for Intel box in the early '90s, stole my keyboard-happy friend Arnold Kim's Matias Quiet Pro (with Alps-like switches — a nice board, but no superstar) and picked up a genuine IBM Model M Space Saver keyboard (buckling springs) in mint condition, as well (it's something of a legend in the mechanical keyboard world). All of these are quality keyboards, far surpassing what comes bundled with any PC or Mac you might buy. Still, the Realforce with its lovely Topre switches has remained my favorite.
Until recently, there were only two consumer keyboards on the market featuring Topre keyswitches: the Realforce boards and the Happy Hacking Professional keyboards from PFU systems. These are expensive keyboards, make no mistake. About a month ago, however, news landed that Korean keyboard maker Leopold was releasing a Topre-based compact keyboard, model FC660C, at a more affordable — thought still rather high — price-point. It features 66 keys and uses Topre switches and, over at the keyboard forum Geekhack, the race was on for Topre-lovers to get their hands on one of these brand new boards. (And getting one outside of S. Korea is a challenge.)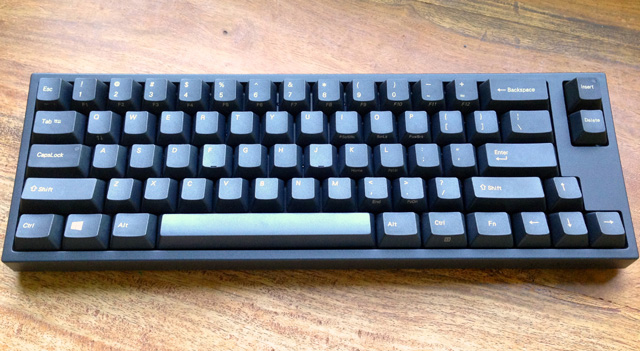 After watching things at Geekhack for a few days, I saw that LA-based EliteKeyboards.com made a post indicating that they were about to receive a small batch of FC660Cs — 30 or so — with more to come in a month or two. I "kept a close eye" on their website for the new keyboard to appear and, when it did, I quickly ordered one. A few days later and I'm typing on it.
Now, I've tried most types of keyswitches out there. Alps, Cherry MX, buckling springs, Topre, scissor switches, typical rubber domes, etc. Of them all, I find Topre switches, which are basically domes of unusual quality combined with a capacitive, low-reisistance spring, the most to my liking. What surprises me, thought, is that I actually prefer the feel of the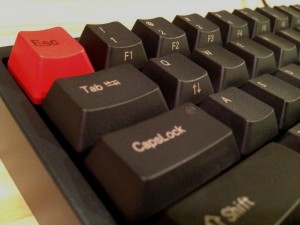 less expensive Leopold board to that of my Realforce 87U. Topres bottom out with a satisfying "THOCK," and the Leopold's "THOCK" is just…a bit more satisfying.
I initially wanted the FC660C to use in the standing-desk setup I've got going in the kitchen on the main floor of the house. The Realforce has been living on my iMac in the basement computer room, and I thought that a nice secondary keyboard on the standing-desk would make for a great set of workstations to alternate between in order to mix up the workday. (Also, I wanted both machines to have "tenkeyless" keyboards — those lacking a number pad — as it makes for better / closer trackpad positioning.) Given my unexpected preference for the Leopold, however, I believe it will be taking up residence on my main machine, the basement iMac, while the Realforce moves upstairs to the standing desk.
They're both exceptional keyboards, but for the money, the Leopold FC660C takes it, I think.
One of the things that creepy keyboard nutballs like myself enjoy doing is listening to the sweet music that is made when these keyboards do their thing. There are lots of videos of mechanical keyboard fans fingering their precious hardware on YouTube. I've watched many of them and, given how little time the FC660C has been on the market, I thought I would take the opportunity to make my own typing video for the first time, to help convey the lovely sound that issues forth from this great new keyboard as I type upon it, for those that may be considering the purchase. The sound, to me, is like rain gently falling on a wooden cottage, somewhere deep in the forest. Soothing and, oh, so sweet…
Enjoy the video and, if you haven't already, I urge you to consider investing in a "real" keyboard of your own.
UPDATE Feb 2014: I picked up a second FC660C for the office in town!