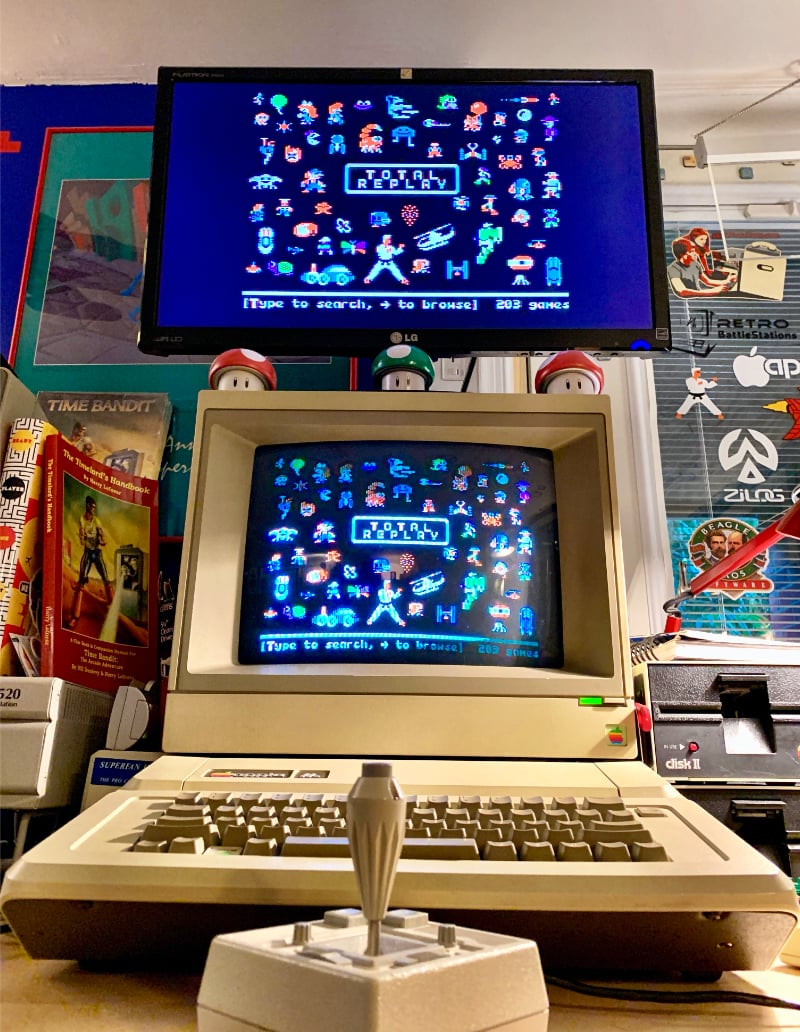 Over the past few months I've been enjoying my Apple IIe in a few new ways, and that's something that feels pretty nice to be able to say, here in 2020.
Back in 2018 I became part of the hardware beta testing group for an Apple II video interface that was being engineered by noted Apple IIgs developer John Brooks (who wrote the well-loved IIgs version of Rastan, among others). Known as the VidHD, it is a unique and capable solution to bridging the Apple II to a modern HDMI display, and with some features you might not expect, along the way. As John describes it,
The VidHD card is unlike other video options for the Apple II because its all-digital HDMI 1080p output is upscaled directly from the byte values written into the Apple's video memory. Because VidHD is all-digital, it does not suffer the noise/crawl of analog converter boxes, or the color variance of VGA converters. VidHD has better clarity and color accuracy than composite, SCART, or even the original Apple IIGS RGB monitor.
Because the VidHD hardware constructs its own rendering of whatever screenmode is active on any Apple II from the original II to the IIgs in real time, all of these screenmodes can be enabled on any Apple II. An Apple II Plus, for instance, can support the IIgs' 640×200 256-color Super High-Res display. There are a number of rendering modes to choose from that handle the II's NTSC artifact color in different ways, emulate scan-lines, etc. What's more, VidHD allows setting text mode foreground and background colors and also provides several extended text-modes beyond the standard 40×24 and 80×24 modes: 80×45, 120×67, and 240×135. (See a screenshot demonstrating one of the extended text modes, by Jay Craft.) It's a very impressive piece of hardware.
I have enjoyed using my VidHD in the 128K enhanced Apple IIe since I've had it. It makes for a cleaner graphics display than the composite Apple Color Monitor IIe I've been using with the system, and the monochrome text-mode sharpness is beyond compare. I do a great deal of BBSing on the IIe and the sharpness of text rendered via the VidHD to an LCD is much easier on the eyes. (I won't be retiring the composite CRT, though; sometimes I really want to see those fuzzy artifact colors, glow blur and all.)
Aside from BBSing, I've been gaming and watching scenedemos more frequently on my IIe lately than in any time since it was my main / only system back in 1986. And, that's because of an amazing assemblage of software known as Total Replay.
Officially launched at KansasFest 2019, Total Replay is a 32MB ProDOS disk image that is basically a magical one-stop-shop that meets (and exceeds) the needs and desires of most any Apple II retrogamer. All this is thanks to the duo of 4am and qkumba, but putting it together was no small feat.
Continue reading