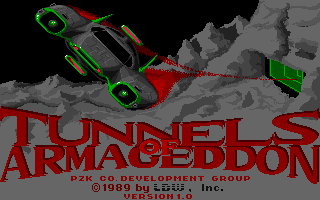 In 1989 I wrote a letter (envelope, stamp, and all) to game publisher California Dreams asking a technical question about the game Tunnels of Armageddon for the Apple IIgs. But, they never wrote back.
I was thinking back on this recently, with some sadness, and that set me about doing a bit of internet sleuthing. And I'm quite glad that it did. I am happy to report that here, 30 years later, I finally have an answer, and not from the publishing house, but from the mouth of the game's original developer, from across the world in Poland.
Of all the computer system in my past, the Apple IIgs (which we purchased in the autumn of 1986) is one of my very favorites. But, given my fickle tendency to jump from one platform to the next, I left the IIgs behind a year or two later, about the same time that several close friends acquired their own IIgs systems.
Fridays after school, a couple of friends and I would gather at one of our houses, watch movies, eat pizza, and show off this or that new game or demo we had for our respective systems. One day in 1989, I was over at my IIgs-owning friend's house (I had an Amiga at the time) and he showed me this game that I found to be truly impressive, which was saying something (I had an Amiga at the time…). The game was Tunnels of Armageddon. It's a futuristic 3D racing game of sorts, in which you must successfully and rapidly navigate a series of tunnels discovered under Antarctica, carved out by an alien race as a test of humanity's intelligence. Success will grant mankind knowledge of hyperspace travel, while failure will lead to the extinction of humanity.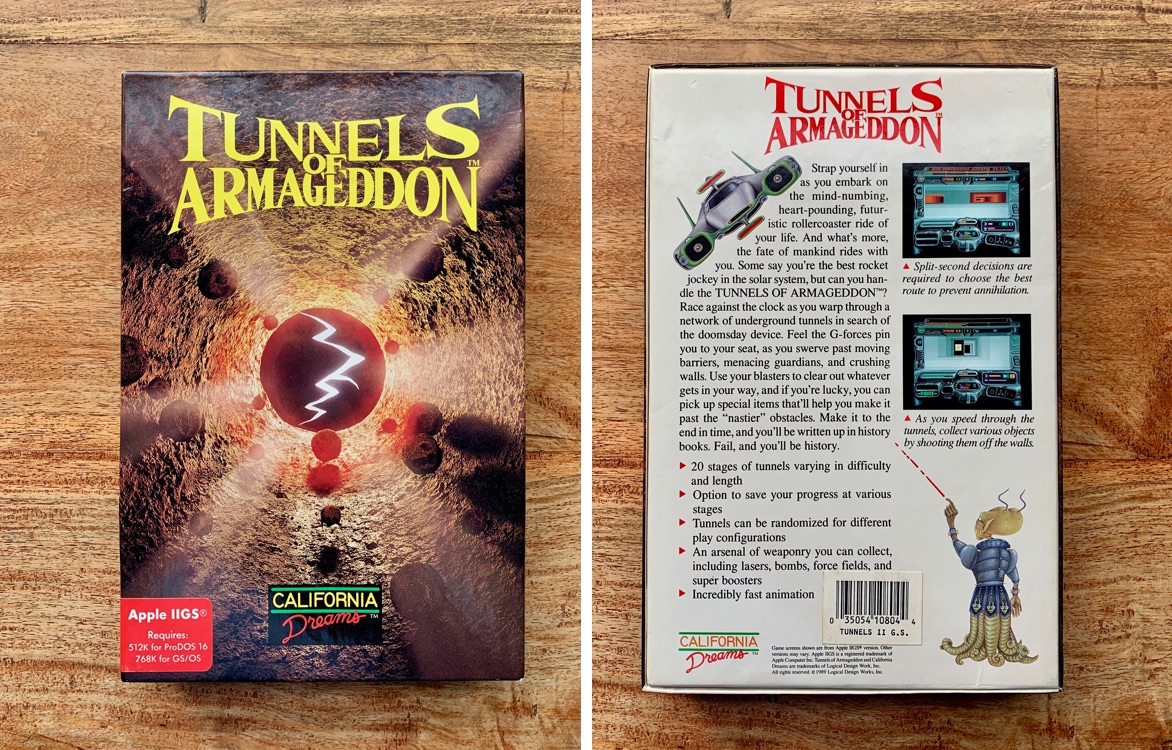 The thing about Tunnels of Armageddon is its sense of speed. The tunnels you must race through are rendered as a series of rectangular wall or border sections that zoom towards you. There are obstacles and power-ups here and there, as well as many branches, some leading to dead ends. Looking with today's eyes, it's a rather simplistic affair, but gameplay feels extremely fast and very smooth, which is a real achievement on the Apple IIgs, which is rather limited as a high-speed gaming platform as compared to the Amiga and Atari ST, which were it's closest equivalents.
This friend of mine had also gotten into Apple IIgs assembly language programming and had the associated Apple hardware reference texts (which are currently sitting on my shelves) on hand. Flipping through them, I had learned of the "Fill Mode" of the IIgs graphics chip, which was basically the one trick it was capable of using to help unburden the CPU during screen drawing. In a nutshell, with Fill Mode activated, only the outline need be drawn in order to render a solid, filled shape; the graphics chip would do the rest. It was a standard feature of more advanced "Blitter" chips on other platforms of the day, like the Amiga and Atari ST, but it was the IIgs' one graphics boon. I was intrigued by this hardware capability and assumed that Tunnels of Armageddon utilized it, but I wasn't certain, and so I wrote to the publisher to ask that question. And, I never got an answer.