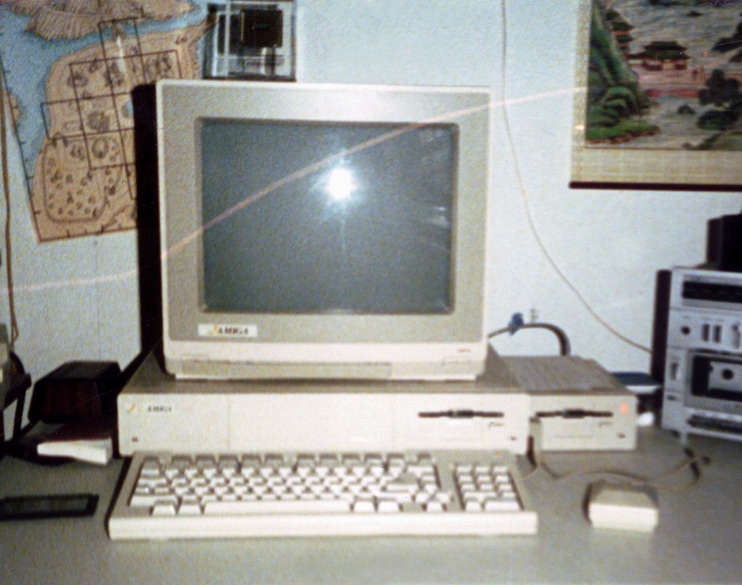 Thirty five years ago I became an Amiga user. One of the first, actually. This is a meandering and reminiscent post of sorts, written to mark the Amiga's 35th birthday and the 35 years I have known and loved the system.
On July 23rd, 1985 Commodore officially unveiled its new Amiga computer at a black tie event at the Lincoln Center in New York City during which, among other demonstrations, artist Andy Warhol took the stage and used an Amiga to paint portraits of singer Debbie Harry ("Blondie"), seated across from him, with a paint program and the mouse. The attendees present at the event that day were witness to a leap in technology that was nothing short of revolutionary.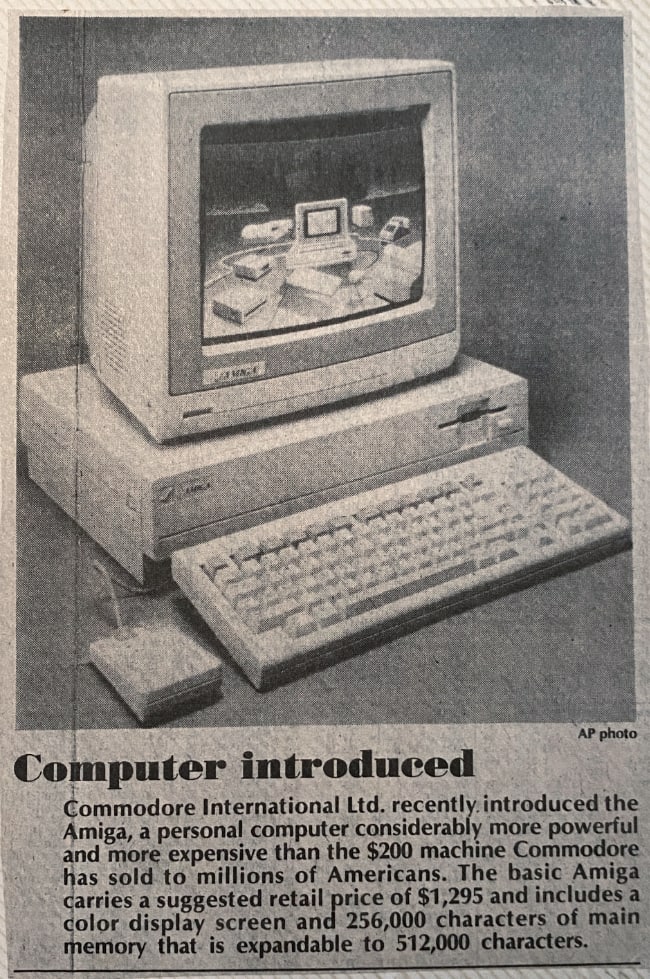 In early 1985 I had an Apple //c, my second computer, that I was trying to sell in order to purchase an (original) Macintosh. At the time, I read passing mentions in the newspaper of a new machine on the way from Commodore, far more capable than the C64, but it didn't really register with me for whatever reason. It wasn't until I picked up an issue of Personal Computing magazine in the summer of 1985 that I understood just what the Amiga was capable of, and my focus quickly shifted to owning an Amiga. (I actually carried that magazine around everywhere with me for about a month.) And, here the details get hazy. I think it was to do with the months that passed without new Amiga info (time passes slowly when it's summer and you're 13), reading issues of MacWorld magazine that were coming in the mail, and spending lots of time at Next Generation Computers in Williamsburg, Virginia playing with their Macs, but when the //c finally sold we went up to Next Generation and purchased a Mac 128k. I brought it home and was in geek heaven. For a while…
I had owned the Mac for just one week when I went to a different local computer store, Chaney Computer in Newport News, Virginia, to purchase a ($45) 10-count box of 3.5-inch floppy disks. My mother waited in the car while I ran in.
And there on the table I saw it.
The Amiga — the first one I had ever encountered. It was sitting there, fired up and running an animation demo of some sort. All of the things that made me so excited about the system before flooded back to me right there. I bought the box of floppies, but they never made it into that Macintosh.
Later that night at the dinner table, I started off a conversation I had been frenziedly honing in my mind all afternoon. And, I carried it off well, it seems; my parents agreed to changing gears, and the next day my father returned the Macintosh to the Apple dealer and we went and put a deposit down on the $1,285 Amiga. (Incidentally, It was always called the "Amiga 1000", but no one really noticed until the Amiga 500 and 2000 landed in 1987.)
A few weeks would pass before the dealer got any stock from Commodore beyond the demo unit. But, on what I believe was the 21st of October, the phone rang and they told us to come on down, the first two units had arrived and one of them had my name on it. When my mother picked me up at the end of the school day, we headed to the dealer and left with the first Amiga that they would sell.
Chaney Computer was a very business-centric sort of dealer with two locations on the Virginia Peninsula. The salespeople wore suits – it was ComputerLand-esque (for those that remember the chain). They sold all models of Apple computers of the day, as well as a number of IBM PCs and clones. (I recall playing with the lovely Data General-One laptop there and I believe it's the first place I ever saw an IBM PS/2). The Amiga was certainly the first (and last) Commodore model they would ever sell, but they did advertise the new system avidly in the local newspaper. And, as the ads indicated, they were the first dealer in Tidewater to carry the Amiga. (See a gallery of photos from my visit to their last, remaining store in 2009, shortly before the business shuttered / changed name to Computer Concepts)
Tidewater is a tidal marsh region of the East Coast of the United States. It includes the low-lying plains of eastern Virginia, northeastern North Carolina, southern Maryland and the Chesapeake Bay. The bulk of the land area of Tidewater is located in the Commonwealth of Virginia. I grew up in Tidewater, in York County, and currently still live in Tidewater, in Alexandria City, east of Interstate 395 which is its boundary line in northern Virginia. By purchasing the first Amiga available in this region I certainly purchased the first Amiga sold in Virginia — and one of the first sold on the East Coast of the U.S. So, to say that I was an early adopter would understate the situation to some degree.
I adored the Amiga. I was able to make copies of every demo that the dealer had on hand to play with, including pre-release versions of certain applications, such as the drawing program Graficraft. (Sadly, this was before I had a modem, so there was no downloading going on (although, interestingly, one of the largest Amiga BBSs in the U.S. in the early days, OxGate RBBS, was located in the very town where I lived).) The first commercial title I found available for it was the extremely underwhelming Electronic Arts release of Software Golden Oldies. The only other titles I was able to get my hands on before year's end were Activision's Hacker and Mindshadow, the superb Wishbringer from Infocom, and Electronic Arts' seminal Deluxe Paint.
Software was very slow-coming for this new platform in the beginning. Many developers didn't know what to make of it. On the one hand, it had graphics and sound capabilities that were orders of magnitude better than anything else outside of the small, specialized top-tier professional market (and in that market, high end graphics and sound weren't in the same box). This lead many non-game publishers to write it off as a "game machine." (It was originally designed as a game console, but the video game crash of the period and urging of the engineers behind it shifted the product focus to that of a complete multimedia system with a powerful UNIX-like, pre-emptive multitasking, graphical operating system.) But, on the other hand, it cost under $1,300 and featured a 7.14MHz MC68000 CPU (custom coprocessors aside) that was more powerful than the 6MHz Intel 80286 at the heart of the $6,000 IBM PC/AT that ran DOS as standard. The lack of software in the early months was painful and, for me, in more ways than one.
I was a very obvious computer geek in the 8th grade at Hampton Roads Academy in Newport News, which certainly brought a degree of social adversity my way. (Computers were in no-way "cool" back then — upon my shoulders and those of my ilk (extremely nerdy computer geeks) stand the kids of today, carrying their hip tablets around oh so fashionably!) What didn't help was that my History teacher was a computer enthusiast, as well, and had been following the Amiga in the press. Aware that I had made the purchase, but also aware of the dearth of early software for the platform, he made a regular practice of asking me, in class, about how things were going for me and the Amiga with no programs to run, in a good-hearted sort of ribbing. This sort of singular attention didn't work to expand my social standing in the class. (Admittedly, neither did my decision to hang a framed photograph of an Apple //c in my locker the year prior.)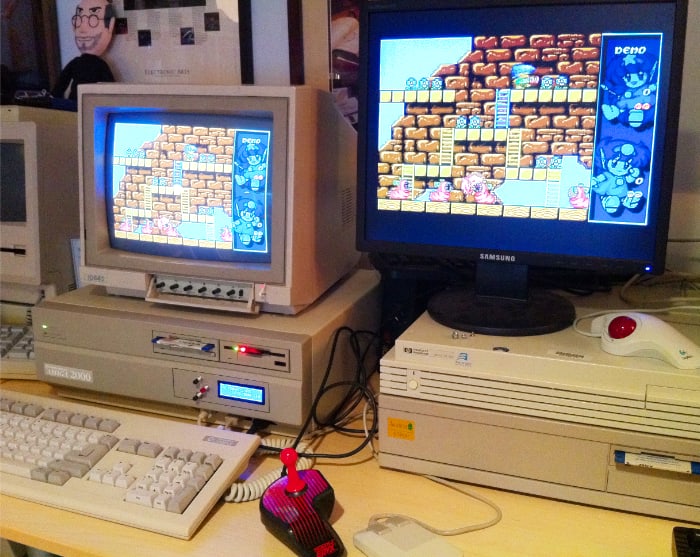 Despite the initial scant software offerings, it's hard for me to convey the feeling of experiencing the Amiga's capabilities for the first time, as compared to those of computers I had used before, including the 8-bits from Apple, Atari, and Commodore, the IBM PC, and the Mac. The degree to which it outshined those machines was more akin to magic than simply the technological advancement from one generation to the next. I can still tangibly feel the awe that the Amiga instilled when watching it do its thing with the little software that was available, almost like a long-ago flavor or scent recalled vividly. I have never, at any point since, experienced such a marked jump in capabilities from one system or platform to the next. And I've owned a few systems over the years. It truly was a singular machine.
Brian Bagnall, in his book On the Edge: The Spectacular Rise and Fall of Commodore, spoke of the life-changing experience of simply witnessing the game Defender of the Crown running on the Amiga at the time of its release.
The final game was a landmark in video game production values. As game designer Bob Lindstrom recalls, "The shock of seeing Defender for the first time was one of those experiences that changed the gaming stakes for all of us."

Compared to other video games of the time, Defender of the Crown established a new level of quality. IBM had Kings Quest by Sierra On-Line, a decent but primitive adventure game. The Macintosh had games like Checkers or Backgammon, or board games like Risk. Defender of the Crown had richer graphics than any computer, console, or even arcade game could boast in 1986. It was a revelation.
It was on the Amiga that I became an avid follower of the demoscene, copying demos shown at the monthly meetings of the ALFA (Amigoid Life Form Association) user group. The Amiga is also the platform upon which I discovered the world of MOD / tracker music. Not to mention the years of games that far outshined those of many of my friends who were playing on the Nintendo Entertainment System and Sega Master System. And the games were in full supply by the time I had an Amiga 2000 in 1989; a software rental shop was just across town and renting a new title or two was a happy every-weekend event.
Sadly, I no longer have that first Amiga. I sold it for a different system, which I later sold for a different system still, and so on and so forth in my long and fickle practice of platform jumping. It wasn't long before I moved back to the Amiga, though; I had an Amiga 2000 in 1989 and an Amiga 1200 in 1993. Once I began collecting vintage systems around the turn of the century (when I had more than one computer in the house at a time), over the years I acquired a couple of Amiga 500s, a couple of Amiga 1200s (accelerated with 68060s), another Amiga 2000, a PowerPC-based SAM440ep-Flex AmigaOS 4 system, and finally another Amiga 1000.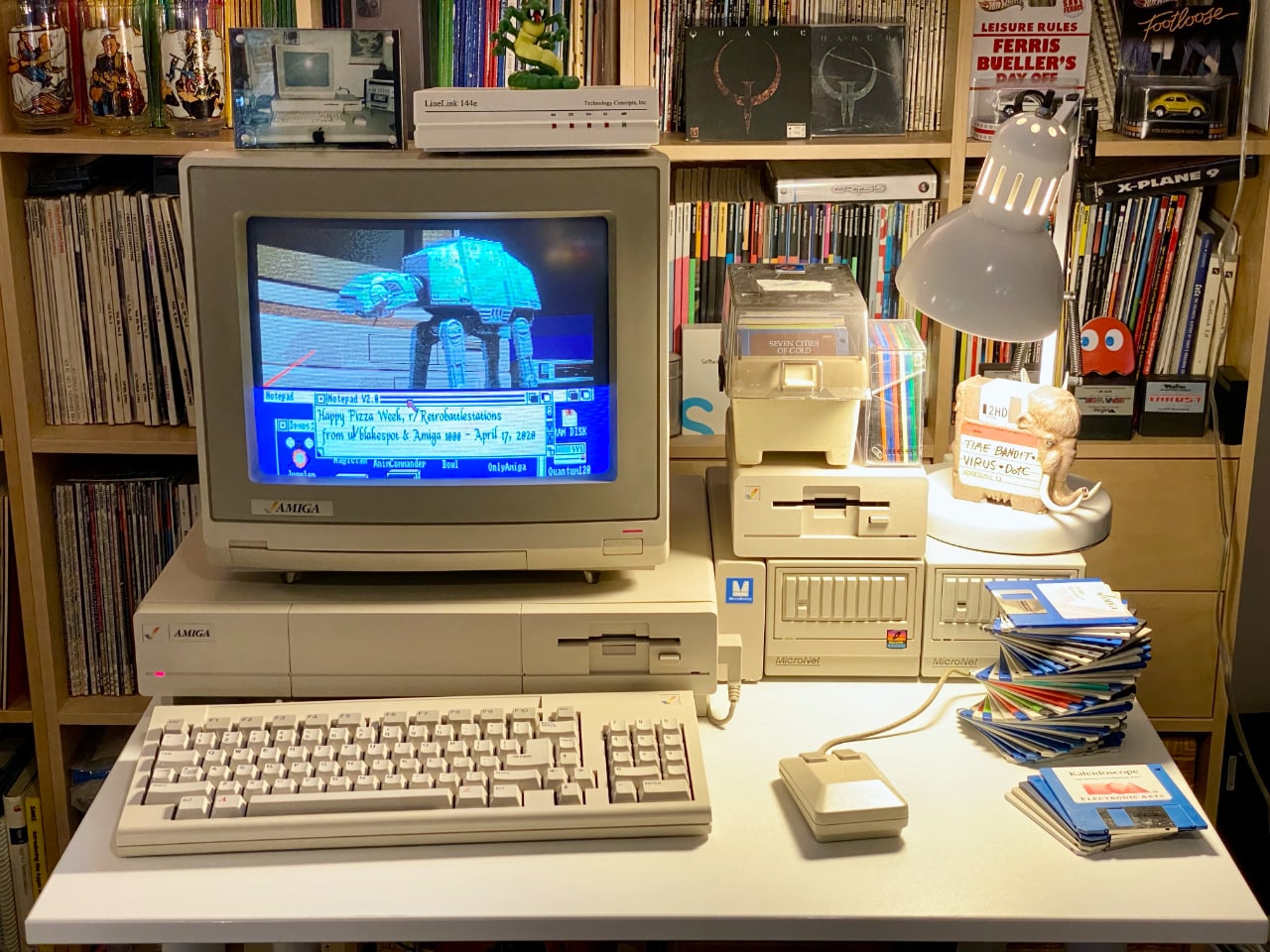 Today, I still have Amigas and use them several times a week, easily. At present I have the aforementioned Amiga 1000 (an NTSC unit with 512K of "CHIP" (graphics/sound) RAM), expanded with a Microbotics Starboard II that provides a SCSI interface to which two spinning disks are attached, 2MB of "FAST" RAM, and a battery-backed clock. I use it as a main go-to for telnet BBSing by way of a WiFi232 interface and doing some occasional pixel art (as it's now called). I also have an Amiga 2000 with a 68020 accelerator (though it's been through quite an upgrade / downgrade cycle over the years), Ethernet, and a flash-based floppy emulator that I use for watching scenedemos, gaming, BBSing, acting as an online MOD-player jukebox, and pulling files off the net. The PowerPC-based "Amiga" I'm afraid I rarely use; that area of "modern Amiga computing" is a bit of a fractured mess in my opinion.
And, there you have it. While I've not had an Amiga in the house to fire up in every one of those 35 years, I've had one in most! And, for all of them, I've definitely considered myself an Amiga user.
Related links: