As often happens, I got an idea for a blog post about a place of my past that readers may find interesting, and jumped online to scour the search engines for some tidbit of history I could use to prop up the piece. And, as often is the case, I found nothing. Memories that make for an interesting post on this particular blog, by their very nature, often concern places and events that happened pre-internet. There's all too often just not a trace out there about the topic in question.
In this most recent search, I was using keywords that would target the local newspaper where I grew up. I wasn't having any luck, when I stumbled across a newspaper index / archive site that seemed to offer possibilities for my search, for a monthly fee. So, I went in on it and almost instantly found a full-page article concerning the place I had in mind. Stunned, I quickly searched for a number of other ideas I've had for both this blog and my other, Nostalgic Virginian, that were search engine dead ends. Boom — relevant material on every count materialized. (There are some nice posts in store, I think!)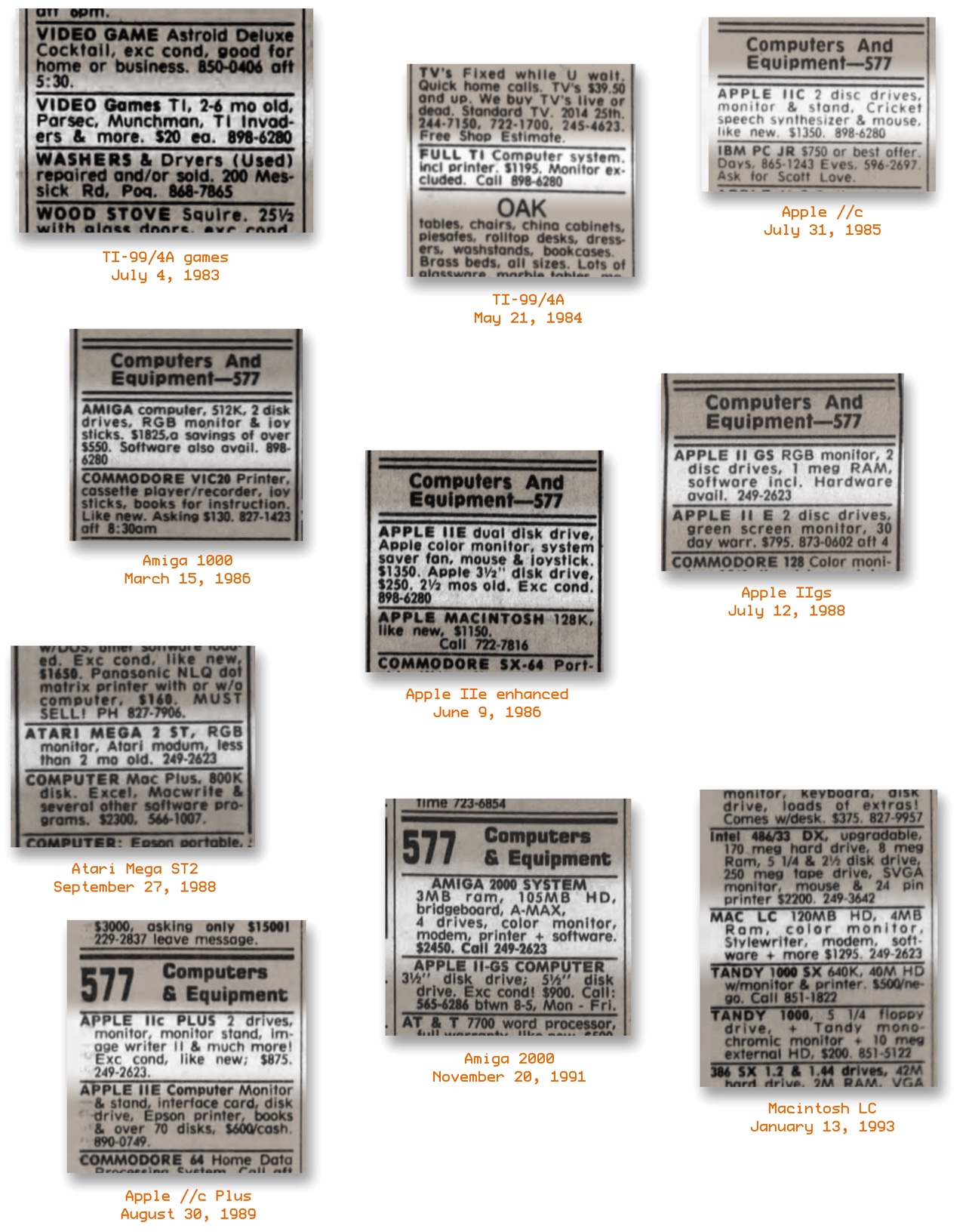 Sitting there quite satisfied, it then occurred to me that classified ads over the decades may be part of this archive. I was something of a serial platform monogamist way back when, moving through a great many machines over the years. I would put one up for sale in the local paper  and then, when it sold (usually with $ome help from mom and dad), I would jump to the new platform. So, I began searching on my home phone number for the two houses we lived in while I was growing up in the Hampton Roads area of Virginia, and — voila! In no time, I located ten scanned classified ads that, in my youth, I had written up and phoned in to the Daily Press newspaper. It's amazing for me to sit here today and look at these decades-old artifacts from my computing past. The dates that these ads ran in the paper have adjusted my memory a bit as to what was happening just when, but I do remember it all.
I hope readers find this collection at least an interesting glimpse back, if not so profoundly fascinating as I do.