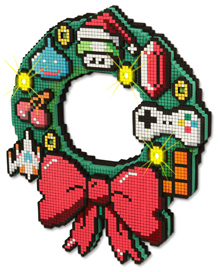 'Tis the season, and that means it's time to push out the eighth annual Byte Cellar vintage computer Holiday demo roundup so everyone can feel that warm, fuzzy, pixellated holiday glow. With scanlines. Enjoy! I've been a computer geek for a long time now, but I've been enjoying The Holidays even longer… I got
my first computer
, a TI-99/4A, on Christmas morning in 1982. I was 10 years old and from that Christmas on, it was nothing but games and computer hardware that I wanted Santa to leave me under the tree. On through my teenage years, part of my ritual for getting into the Holiday spirit was downloading and watching Christmas demos on whatever system I had at the time. And, apparently I wasn't alone in this, as Benj Edwards explains in his piece, "
The Oddball, Nostalgia-Inducing Christmas Tech Art Of The 1980s And 1990s
." Enjoying these demos is a personal tradition that I had, sadly, long left behind until 2010 (the year before I began writing these posts) when I was inspired to seek out the demo I remember best, Audio Light's 1985 musical slideshow for the Atari ST. With the help of an emulator,
I captured it
to share online with readers. A year later, I fired it up again and watched it run through it's 16-color, pixellated images and 3-voice musical holiday greetings. As I watched, it occurred to me that it might be nice to gather a few of the other demos I remember from the good ole' days and present them here, in order to try to share some of the holiday cheer that they used to inspire within me. The following list of demos ranges across a variety of platforms of olde and is sure to bring the warmth of the season to the hearts of any and all retrocomputing enthusiasts who behold it. Happy holidays, and I hope you enjoy the shows! Be sure to also have a look at the dozens of demos gathered through the years in
the 2017 edition
and
the 2011 – 2016 edition
of this post.

TI-99/4A – Christmas Demo by John McGinley (2018)

C64 – Merry Christmas 2017 by Nicokick Design (2017)

DOS PC – Chaplin Christmas Card by IBM (1985)

MSX – Christmas Demo by Delta Soft (2018)

ZX Spectrum – Christmas Card Demo by EMS (2016)

Myarc Geneve 9640 – XMAS, A Christmas Music Program by Michael Zapf (1993)

DOS PC – X-Mess by Sunrise Industry (1996)

Amiga – Christmas Classics by Free Spirit Software (1989)

C64 – Merry Christmas by Genesis Project (2017)

Amstrad CPC – Xmas 2009 by Impact (2009)

MSX (w/ Moonsound OPL4 cart) – Xmas Demo 2002 by TeddyWareZ (2002)

Oric 1 – Oric 2015 Demo by Oğuzhan Yilmaz (2015)

Playstation – Christmas Card by Echelon (2005)

MSX – XMASWISH by M.J.C. de Jong and Zooi Troep (1990)

Windows PC – Holiday Cheers (4K demo) by Seven (2014)
May this holiday season bring you WiFi modems and floppy drive emulators galore! Be sure to check out: