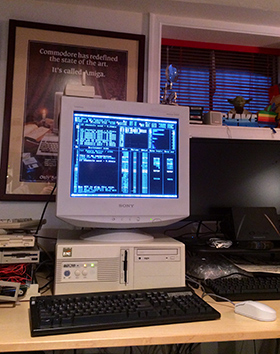 Back in November I became inspired by the knowledge that my favorite old school DOS MODplayer had "recently" received an update, and expressed my intention (part 1) to more-or-less recreate the 486-class DOS PC upon which I enjoyed many, many hours of MOD music, scenedemos and games back in 1996 or so.
Well, it was a long road (part 2) getting everything together, but a few weeks ago I finally completed the build. I took a detour or two from the original plan but, for the most part, the PC is the same machine I was using nearly 20 years ago:
AMD 5×86 133 (overclocked to 160MHz, making for a 40MHz bus)
ASUS PVI-486SP3 motherboard (VLB, PCI, ISA slots) w/ 256K L2 cache, 32MB RAM
Cardex Tseng ET4000/W32p-based VLB video card w/ 2MB DRAM
Adaptec 1542 SCSI controller

Seagate Hawk 1GB SCSI HD
Toshiba 32x SCSI CD-ROM drive

Gravis Ultrasound ("Classic") w/ 1MB sample DRAM
3Com EtherLink III Ethernet adapter
The same Focus FK-2001 mechanical keyboard and Logitech serial mouse from my original, 1996 PC
MS-DOS v6.22, Windows 98 OSR2.5, Norton System Commander 7
Some of the more interesting drills were trying to get a SCSI drive to work with my original DPT SCSI card (I ended up jumping over to a more widely supported, if less mighty, Adaptec card), sourcing SRAM chips to upgrade the motherboard cache as well as the oddball 24-pin DRAM chips needed to upgrade the video card to 2MB RAM, getting Ethernet networking running under DOS (with mTCP), and fixing the CMOS battery well after I snapped part of it off…
A number of twitter pals urged me to film the build, so I did, but it's a pretty rough production, I must confess. Still, those wanting to see this system come together, here it is.
I've actually had more fun with the completed system than I imagined I would. I've got it loaded with demos and games and MOD/S3M/XMs. It's been great fun seeing what more or less the highest spec "486" system you can build is capable of. In fact…I've had so much fun with scenedemos in particular that I have decided to build a second PC designed to chase down the next era of productions, the ~1997-2001 DOS demos that run in high res, high color VESA framebuffers. Socket A Athlon Thunderbird 1400C, here I come! (And, of course, I'll bring a full report as that project unfolds.)