I am surprised to find, in looking back, that I apparently never made a post about becoming an owner of the credit card-sized, ARM-based Raspberry Pi computer. As such, belated newsflash: in the summer of 2012, I acquired an early-revision, $35 Raspberry Pi Model B. Now, the Raspberry Pi, made in the spirit of the Acorn BBC Micro, is a story in and of itself, but both of this blog's readers have certainly heard of the machine, so I won't go into heavy details here. For anyone unfamiliar, I point you to Wikipedia.
When I got the Pi, I attached it to a 20-inch 1080p display and a Happy Hacking Keyboard Lite 2 at my main workstation desk (which are shared by my PowerPC-based Sam440ep-Flex AmigaOS 4.x machine). I've enjoyed using the Pi for the last year and a half: chatting over IRC, exploring the Pi Store, scripting Minecraft with Python, trying out RiscOS, etc. However, being down in the basement, it wasn't easily accessible for fiddling around with while sitting in the den with the family at night. I find the Pi a very interesting platform and I wanted to make it more accessible in order to spend more time with it.
So, I decided to turn it into a laptop.
I recalled seeing a few tweets and blogs posts about users taking a a laptop-looking mobile phone dock and rigging it up to work with the Pi, so I began investigating. It turns out the device in question is the Motorola Laptop Dock for the Atrix 4G mobile, which is no longer produced. It's basically a laptop without the brains; it has a rechargeable battery, a decent LED screen with (micro)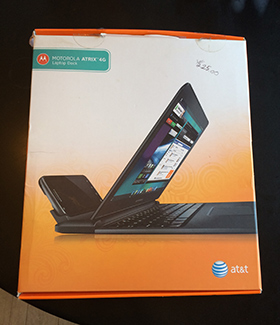 HDMI-in as well as (micro) USB-in to connect to a keyboard, trackpad, and the integrated 2-port USB hub. The Atrix phone is meant to dock into a cradle at the back of the unit, but with some creative cabling (very creative, in my case), the Raspberry Pi can connect quite nicely.
(Here's a video guide from Adafruit that gets the job done with a bit of soldering. (I'm happy to solder when it's necessary, but as I expected, I was able to get this done with the right parts and no soldering.))
I found a Motorola Laptop Dock on eBay for a fairly decent price and then set out ordering the closest-match cables I could find, and then adapter after adapter to tie them all together. (Two, I had to source from overseas.) It took some time, but with all parts finally in hand, it was as snap to get the Pi talking to the Lapdock. I used a few strips of velcro to temporarily attach the enclosed Pi to the back of the screen, wired it all together, added a WiFi dongle, and I was in business. The whole arrangement is a little "cabley," but it works great.
I do get strange looks in the Starbucks, however…