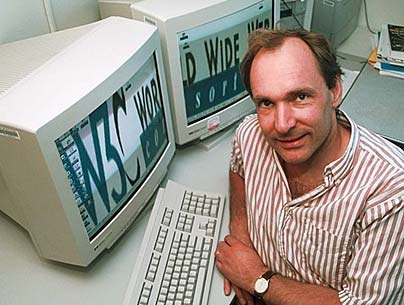 Last month, to mark the 20th anniversary of the World Wide Web, CERN placed the first web site back online at its original address. This got me thinking of my early experiences on the Internet and, soon after (when it arrived), the web.
My first direct interaction with the Internet began in college when I was given my initial accounts in the department of Applied Physics and Computer Science at Christopher Newport University. I was given a UNIX account in the Sun lab as well as an account on the school's PR1ME system back in 1991. On those systems (mainly the Suns), I used email, Gopher, Archie, Usenet, FTP and IRC. There was no web. (And Hotline came later — 2nd rule of Hotline: you DO NOT talk about Hotline.)
One day I was in the lab and a fellow student was showing another this new thing called Mosaic, one of the very first web browsers. I recall him talking to his friend and describing it, and the World Wide Web to which it provided access, as being "basically the Internet for the lazy."
I played around with Mosaic in the lab and then, later, at home on my 486 DOS/Windows 3.1 machine via my first SLIP account, which provided minimal web hosting. (Netscape was a welcome arrival in 1994.) It was on that account that I setup my first "homepage" back in 1995.
So, CERN's recent move with the world's first website reminded me that old time is still a-flying and that there might still be a chance to grab a copy of my first website from The Wayback Machine. After some searching, I found it — most of it — and pulled it down onto my server. I patched things up a little bit and I've now got a live copy of my "homepage" as it existed back in 1997, which is almost exactly the same as it was back in 1995 when it first went online.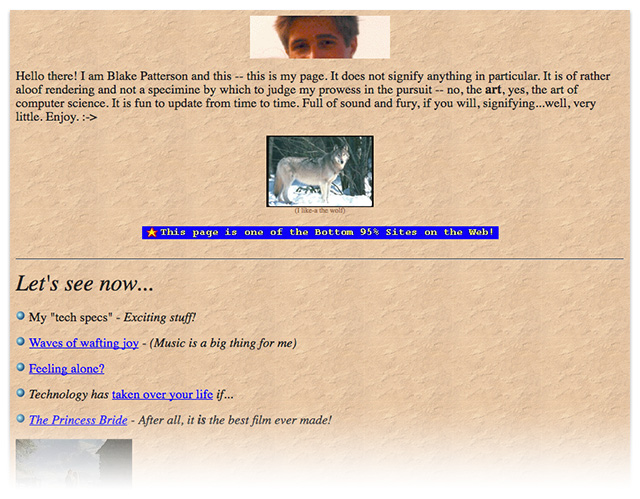 So, have a look. (And definitely some laughs…)
Yep, that's it. It was clear from the moment Tim Berners-Lee laid down his first lines of code on that NeXT Cube that I was destined to rule the web.
While I was at it — sharing the olde — it occurred to me that I have an archive of all of the email sent and received through my old college accounts (Pine, Elm — good times) for 1994-1995. I started scanning through that, as well as Google Groups (early Usenet posts), to get a copy of (most?) every email / Usenet sig I ever used over the past 20 years. I found quite a few iterations and I present them to you, with a blush on my face, below.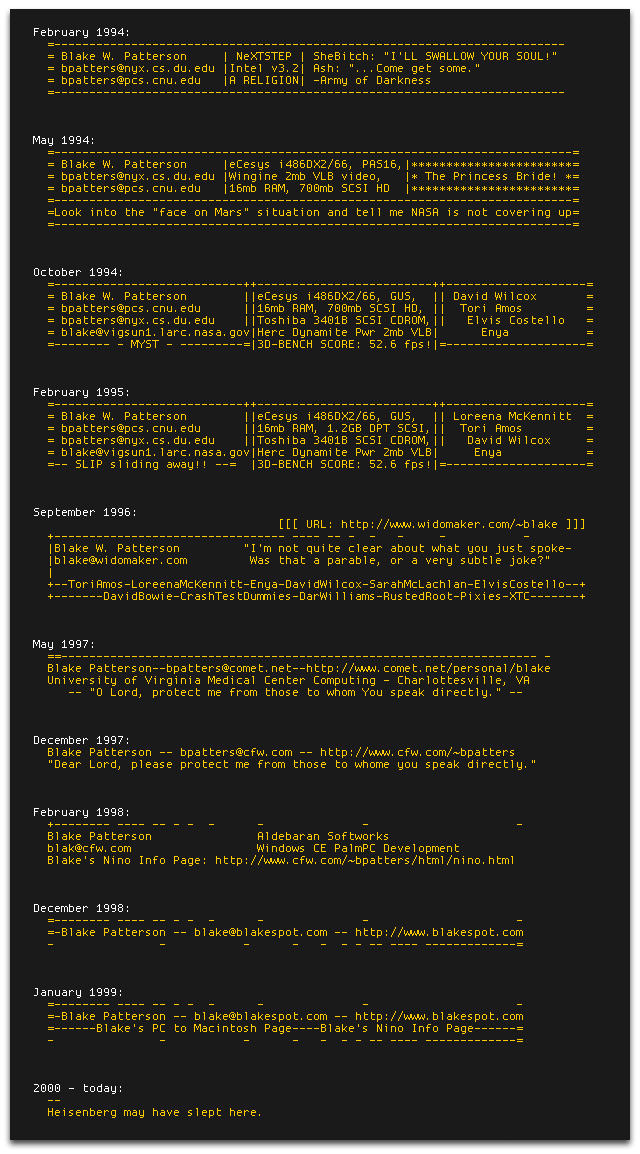 Ah, the much younger me. If only I had copies of the various UNIX .finger files I had in place over the years…
I hope you enjoy this bit of nostalgia. It's been fun to put together and a somewhat shocking (jarring?) walk down memory lane. Oy.