It is not every day that BBSing moves a man to poetry….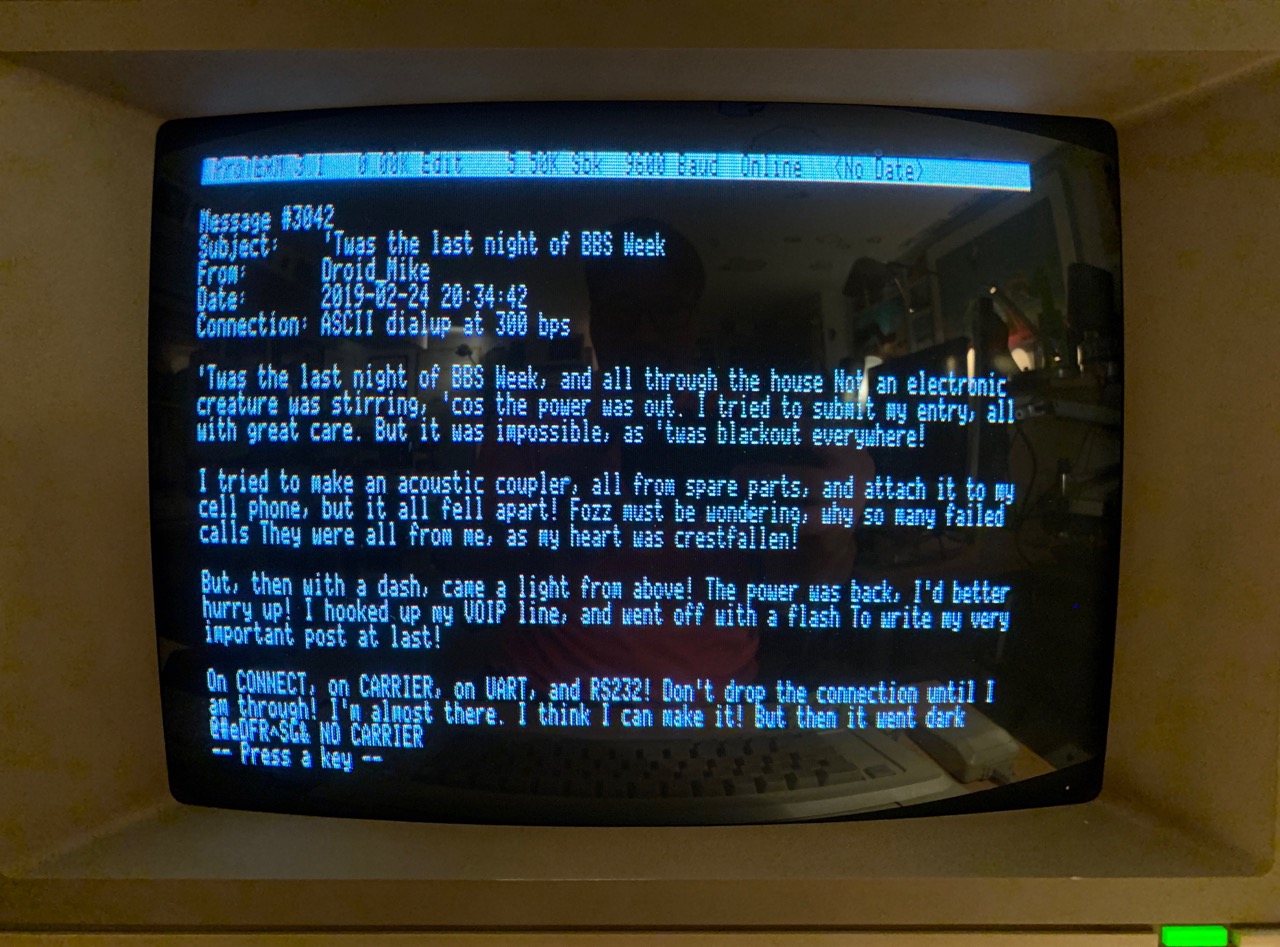 But, there are occasions where it does, as reddit user u/droid_mike proved this past weekend as r/Retrobattlestations' BBS Week IV competition drew to a close. The competition rules required participants to make a post to the subreddit's official BBS, Level 29, and show proof of the post by photographing the screen or a printout of the session. Mike's post is a poem that harkens back to the recent holidays and tells the tale of hardship that is his (successful) attempt at getting his TRS-80 Model 100 dialed (over the telephone lines) into the BBS, and at 300 baud!
While I have provided a photo I took as soon as I encountered Mike's moving post on Level 29 while logged in on my Apple IIe, I refer you to Mike's competition entry subreddit post to read the complete text of his soul's outpouring, a more detailed albeit less poetic account of his attempt, and to see his Model 100 online in all its glory.
I, myself, submitted an entry to the BBS Week IV competition in the form of a photo of my dual-screen, enhanced Apple IIe telnetted into the BBS at 9600 baud (thanks to my WiFi232 unit) and displaying the post I made there detailing the Apple IIe's overall configuration. However, as the judge will be picking a winner in each of the following three categories: #1 Most cramped screen, #2 Most mechanical, #3 Most artsy fartsy message — I think Mike has a far better chance than I at walking away with a few of the coveted r/Retrobattlestations retro sicker prizes!