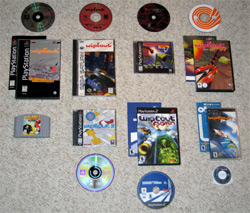 Apparently I really like WipEout. I posted a pic of my computer room on Amiga.org and a reader saw, in the foreground, the original "long box" of WipEout for the Playstation. He wrote to tell me it's very rare. Is it? At any rate, it prompted me to take a photo of my wipE'out" collection. Enjoy.
I do hold a special place for the game. I was very anti-console in the 80's and early 90's. Back in '96 a friend told me to stop by and checkout his new Playstation and this great 3D racing game. I had never used a Playstation before. He fired up WipEout and literally before five seconds had passed, I knew I would be purchasing a Playstation and that game as soon as was humanly possible. I was stunned. 15 hours and one trip to Circuit City later, I was playing in front of my own TV. (I still have and use that original Playstation, which I have since mod'ed.)
Coincidentally, the latest issue (#35) of Retro Gamer magazine features the article, "The Making of: Wipeout." A good read. (And, for the love of God, subscribe to that excellent mag!)
UPDATE [3.14.2007]: It was eating at me, the lack of Wipeout XL for the Playstation, so I eBayed a copy and retook the collection picture. Now at least one version of every WipEout title, other than the Europe/Australasia-only Wipeout 3: Special Edition, is represented.