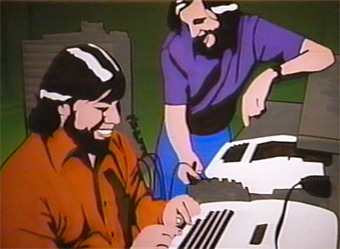 For a few years now I've been sitting on two DVDs full of Apple promotional videos that someone put together and auctioned on eBay. Happily, most of the content was new to me.
The videos promote various Apple systems, primarily the Macintosh but also the Apple II, Apple III, Lisa and Newton MessagePad. They were put out in the '80s and early '90s, but I'm not sure of the intended audience for all of them. Years ago I saw the Newton video on a PBS station, but some of these may have been only internally distributed.
I finally got around to ripping these off the DVD and uploading them to YouTube for folks to see. I'd love to hear any info readers have to offer about these videos in the comments, and hope that folks enjoy them.
Apple of the Future Video

[ See Part 2 of this video ]
The first part of this video is an Apple User Group Connection piece made in 1987 that pretends to be a series of news and product clips from 10 years in the future (1997). It speculates on what the Apple of the future will look like. It's definitely a tongue-in-cheek piece — cheesy and cute.
The second part of this video is a presentation entitled "An Introdution to Business Graphics" made in 1982 that strives to sell the Apple II and Apple III to the corporate world.
People in this video: John Sculley, Del Yocam, Steve Wozniak, Mike Spindler, Apple engineers
Apple Promo Videos, Ads of the '80s
This video stars off with the "Power and Motion" video with a flowing water motif, naming members of the Macintosh line-up, from Macintosh Plus to Macintosh IIcx and the Macintosh Portable. It ends with then-CEO Jean-Louis Gassée having a sip of water himself. Cute. It's is followed by a series of Apple Macintosh promotional sketches ("The Pitch", "The War Room", "Power Lunch", "After Hours") followed by three "The Power To Be Your Best" Apple IIgs ads.
I believe all of the content in this video is from the '80s.
Apple Promo Video from Early '90s

[ See Part 2 and Part 3 of this video ]
This is a three part video (due to YouTube length constraints) that makes up an Apple promotional piece, a full 36 minutes long, that promotes the Macintosh, the Apple II, and the company itself. It contains a portion of the Apple "Knowledge Navigator" video.
People in this video: Saiva Siddhanta monks, Javier Mariscal, John Sculley, Alan Kay, Jean-Michel Jarre, Steve Wozniak, Diane Ravitch, Alvin Toffler, Ray Bradbury
Presumably this video was released in the early '90s.
Apple Video Recalling the Early Days
This is an Apple promotional walk down memory lane that recounts the creation of the company, the Apple I, and the Apple II with commentary from Steve Jobs, Steve Wozniak, and others.
Presumably this was produced in the 1980s.
Apple Presents a Revolutionary Idea: Macintosh

[ See Part 2 of this video ]
This video is an '80s Apple promotional piece that explains the Macintosh, with commentary from several members of its design crew.
People in this video: Burrell Smith, Andy Hertzfeld, George Crow, Bill Atkinson, Mike Murray
Apple's Future Computer: The Knowledge Navigator
This is Apple's famed early '90s "Knowledge Navigator" video, the brainchild of then CEO John Sculley. It's Apple's look into the future, back then.
Your World, Your Newton – '90s Apple Promo Video
"Your World, Your Newton" is an early '90s Apple promo video meant to introduce viewers to the Apple Newton Message Pad.
There's also a late '80s Claris video. But it's not as exciting to me as the rest. And this post is pretty long already. So, here.