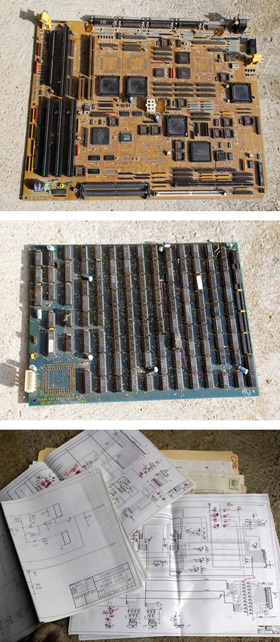 Former Commodore engineer Dave Haynie is auctioning off some extremely rare Commodore and Amiga prototypes to help in the fight against cancer.
From his "Haynie's Garage" posts on eBay:
I have collected up a bunch of items from my days at Commodore. Most of these have been gathering dust in boxes in my cellar or garage. I decided to get rid of these, one way or another. These are largely of interest only to collectors.. most of the items do not function, many have no practical use anymore, but may be of some historical interest. I'm not really much of an intentional collector, I've probably held on to this stuff for too long already. All items sold as-is. At least 50% of all sales will go to my Susan G. Komen 3-Day for the Cure fundraiser. I raised about $2800 last year, and yeah, I walked 60 miles in 3 days! I'm not using eBay's direct donation facility because that's through another non-profit that takes 10% for themselves. This also lets me distribute any proceeds through other team members, if I do get a team together this year (every 3-Day walker has to raise at least $2300 or they don't get to participate).
Dave Haynie joined Commodore in 1983 where he initially worked under Bil Herd on the TED systems (Plus/4, C16, etc.). He was later promoted to chief engineer of the low-end group and, after Commodore's acquisition of Amiga, Haynie became the primary engineer on the Amiga 2000 and various related accelerator boards. In 1989 he began designing the Zorro III bus architecture and worked with several others to create the Amiga 3000. After that, his work on the "AA" or "AGA" 24-bit graphics architecture lead to the Amiga 4000 and 1200 computers.
Haynie left Commodore in 1994 when the company went bankrupt. Prior to his departure, Haynie had been working on the Advanced Amiga Architecture, an ambitious 64-bit graphics chipset built around a modified HP PA-RISC CPU that was to take the Amiga into the future.
The items Haynie has pulled out of his closet are gems of computing history and should fetch a hefty sum for this important cause.
(Thanks to Jeri Ellsworth, another highly talented engineer who created the C64-DTV and co-designed the C-One, for her Facebook post that alerted me to Haynie's auctions.)
Related Byte Cellar links: