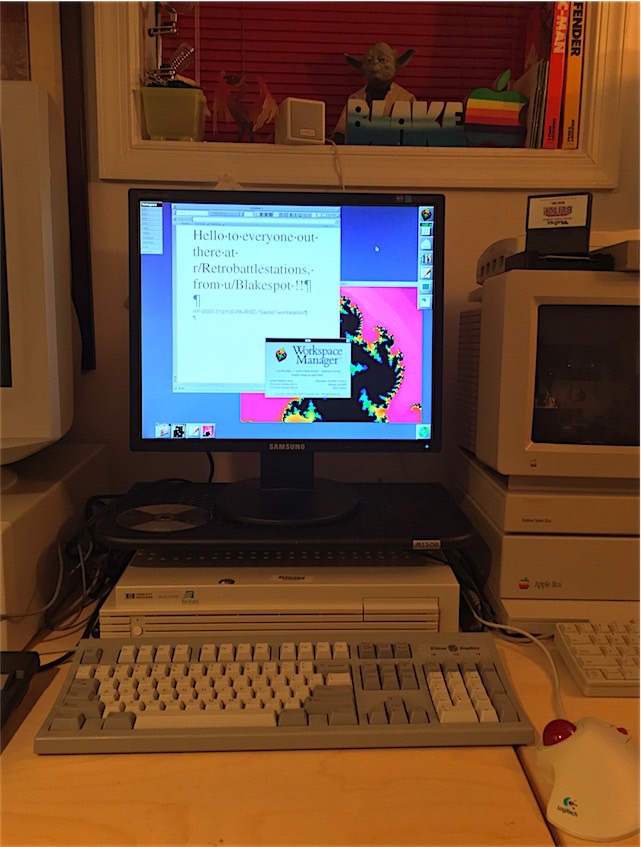 February was NeXT Month over at r/Rerobattlestations. Being a huge NeXT fan, I was eager to take part in the event, which entailed taking a photo or video of a retro computer running NEXTSTEP or OPENSTEP. While my first NEXTSTEP system was a high-end 486 66MHz PC that I purchased from a NEXTSTEP for Intel fabricator called eCesys out of Alaska, I currently own two qualifying systems: a NeXTstation Turbo Color setup and an HP-9000 712/100 PA-RISC system. I went with the rather more unique (and powerful!) HP "Gecko" for this competition, and decided to put together a little video tour of the system.
In all, NeXT supported four platforms with the last version of NEXTSTEP: Motorola 68K, Intel x86, SPARC, and PA-RISC. The HP-9000 model 700 systems that supported NEXTSTEP were very powerful for the time and dramatically outperformed NeXT's own "black hardware" based on Motorola's CISC processors. The model 712 shown in my video also features a highly unique video subsystem that delivers pseudo-true color video using only an 8-bit frame buffer. The technology is called HP Color Recovery and I go into detail about it in an earlier blog post about my model 712, and discuss it briefly in this video.
The story of how this model 712 came into my hands is kind of interesting. I was at a local shopping center back in 2003 when I noticed what I think the Brits call a "boot sale" happening — a sort-of flea market that picked up in the parking lot, with people selling used things out of the back of their vans: TVs, game consoles, HiFi systems, lamps. As I was walking through, I noticed a van containing a large stack of computers. As I scanned the pile, the distinctive shape of an HP-9000 model 712 slab caught my eye. I recognized it from seeing it pictured in old NeXTWorld magazines that reported on the new HP PA-RISC platform for which NEXTSTEP 3.3 was to bring support (support which was dropped in the next iteration of NEXTSTEP: OPENSTEP 4.0). I asked after it and it turned out to be a model 712/60. The guy sold it to me for $25. When I got it home, I found it had a SCSI drive inside with HP/UX installed. I wiped the drive and installed NEXTSTEP 3.3 on it, though I've recently installed HP/UX onto an external drive and have spent some time exploring, which brings back memories of the college HP lab I spent so many hours in, way back when. I've also quite recently replaced the motherboard with that of a model 712/100 that I found on eBay, taking the system from a 60MHz PA-7100LC CPU with 64K off-chip L1 cache to a 100MHz unit with 256K off-chip L1 cache. It screams.
So, while the HP PA-RISC architecture was the platform supported by NEXTSTEP for the shortest amount of time, it is certainly the most unique platform the OS ever saw. And was it ever high performance. My Gecko is one of the most prized systems in my collection.
External Links: