I was just flipping through an A+ magazine (looking for a particular Apple ad that I recall) when I stumbled across a writeup detailing an unusual aftermarket modification to the original Macintosh. I recall, upon first seeing the article and photo decades ago, finding it at the same time practical and somewhat bizarre.
The modification in question is known as the MacDouble D-D and was offered by the Custom Computer Company of Irvine, CA. You shipped your Mac to C.C.C. and in two days they would mount what appears to be a standard Apple external 400K floppy drive into the right side of the computer — faceplate and all. The company also offered two different internal cooling methods to help keep the internal temperature down, what with the unconventional, additional hardware.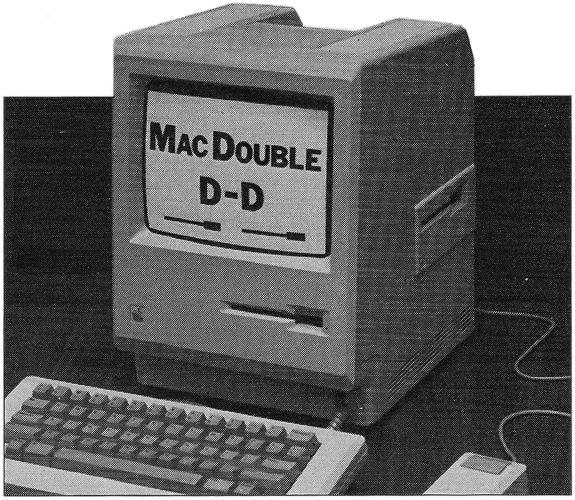 The text of the write-up, which appeared in the July 1986 issue of A+ magazine [see the scanned page], follows.
MACDOUBLE D-D

Custom Computer Company (C.C.C.) is now offering an alteration service—MacDouble D-D—that converts a standard single-drive Macintosh computer into a single unit with two internal disk drives. The company performs the alteration on the user's computer in two days.

C.C.C. can also install Mac Clean Air, a cooling system that pulls cool air through a dust filter, distributing it over the power-supply board. The system uses a low-speed, low-noise fan built into the top of the computer. Available as an alternative to this cooling system is Mac Hummingbird, a piezoelectric air mover that reinforces the computer's convection cooling and counteracts the buildup of hot spots. Both these products are also available as do-it-yourself kits. (List Price: disk-drive installation, $189.95; Mac Clean Air, $129.95 installed, $89.95 kit; Mac Hummingbird, $99.95 installed, $59.95 kit; complete MacDouble D-D system including computer, two disk drives, and filter, $1995)

Requires: Macintosh
Custom Computer Company
3601 Parkview Lane
Suite 1-C
Irvine, CA 92715
(714) 786-3418
The MacDouble D-D seems an interesting mod, and I'd love to see a clear photo of a Mac so altered. I've never run across one on eBay, and Google searches are coming up empty. Has anyone encountered one of these dual-internal drive Macs in the wild? Did C.C.C. actually get started with these mods? I'd love to hear more.