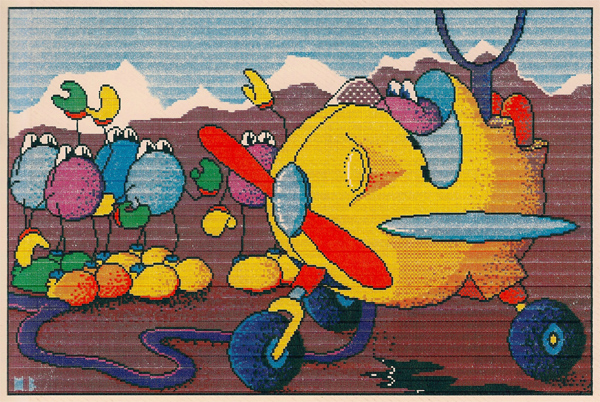 Above, is the first GIF I ever saw.
What you are looking at is a scan of a color printout that I made with my Okimate 20 wax transfer printer in 1987. I had an Atari 520ST at the time and, as I recall, the image was one of several GIFs included on the Compute!'s Atari ST magazine's bundled floppy, along with a GIF viewer. CompuServe rolled out the initial GIF specification (GIF87a) in 1987, and the magazine had a feature on this new format, I believe.
Thanks to the severity of my geekness at the time, I cherished the amazing color (!!!) Okimate 20 printouts and took to placing them in a scrapbook / photo album. Have a look for yourself. This is why, after 26 years, the printout looks brand new. (The passage of time can't be blamed for the quality, here…)
I recently found this photo album tucked away on a shelf in the basement and thought a few folks out there might enjoy my tale.
Also, GIF is pronounced with a soft "g" — "jif." I was there.