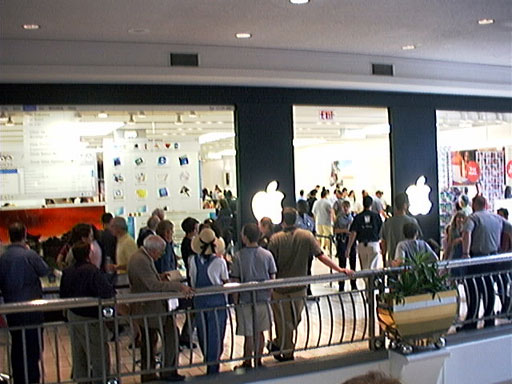 Yesterday marked the 15th anniversary of the opening of the first Apple retail stores, one at Tysons Corner Center in McLean, Virginia and one at the Glendale Galleria in Glendale, California. Together the stores saw nearly 8,000 people and $600,000 in sales during their opening weekend.
The Tysons Corner store was the first to open (VA is three hours ahead of CA), and my wife and I attended the event. With my trusty Apple QuickTake 200 digital camera in hand, I waited in line for an hour and fifteen, captured a gallery of (low resolution) photos of the opening, purchased a semi-translucent blue and white Epson printer (which nicely matched my G3), and headed home to write up the event for MacRumors.com.
My write up is still online at MacRumors (here), but is more readable as captured by Internet Archive (here), with the full post "Read More…" (here).
By the end of 2001, Apple opened 25 more stores within the U.S., and here 15 years later, there are presently 478 retail stores worldwide, across 17 countries (268 of them are within the U.S.). Apple Stores are a huge success and contributed in no small part to moving Apple from "beleaguered" to "most valuable company on earth." On the opening day, however, there were plenty of doubters.
Bloomberg ran a piece on May 21, 2001, entitled Commentary: Sorry, Steve: Here's Why Apple Stores Won't Work. Within, various sources prognosticated failure and doom for Apple's excursion into retail.
The way Jobs sees it, the stores look to be a sure thing. But even if they attain a measure of success, few outsiders think new stores, no matter how well-conceived, will get Apple back on the hot-growth path. Jobs's focus on selling just a few consumer Macs has helped boost profits, but it is keeping Apple from exploring potential new markets. And his perfectionist attention to aesthetics has resulted in beautiful but pricey products with limited appeal outside the faithful: Apple's market share is a measly 2.8%.
says article author, Cliff Edwards.
"Apple's problem is it still believes the way to grow is serving caviar in a world that seems pretty content with cheese and crackers."
gripes former Chief Financial Officer Joseph Graziano.
Rather than unveil a Velveeta Mac, Jobs thinks he can do a better job than experienced retailers at moving the beluga. Problem is, the numbers don't add up. Given the decision to set up shop in high-rent districts in Manhattan, Boston, Chicago, and Jobs's hometown of Palo Alto, Calif., the leases for Apple's stores could cost $1.2 million a year each, says David A. Goldstein, president of researcher Channel Marketing Corp. Since PC retailing gross margins are normally 10% or less, Apple would have to sell $12 million a year per store to pay for the space. Gateway [which no longer exists] does about $8 million annually at each of its Country Stores. Then there's the cost of construction, hiring experienced staff. "I give them two years before they're turning out the lights on a very painful and expensive mistake," says Goldstein.
Edwards, in the end, concludes that,
Maybe it's time Steve Jobs stopped thinking quite so differently.
Well, we've all seen how things turned out for Apple and its entry into retail. (There are presently six Apple Stores within 15 miles of my house.) Looking at such opinions on Apple's bold move into retail is reminiscent of reading "Thread 500," spawned by my brief MacRumors post marking the launch of the iPod. Or watching Steve Ballmer utterly write off the iPhone as any sort of competition to Microsoft's mobile efforts.
As someone who covered Apple news back then and for years afterword, the opening of those retail stores was an exciting time. I am glad to have had the opportunity to be part of that opening day and it has been kind of amazing watching the company's retail growth in the decade and a half that followed. I still have a Tysons Corner Apple t-shirt we were given on the shelf, tucked away in its plastic tube (and I'm wearing the other one I brought home in the photo below, taken in Sedona, AZ in Oct 2001). And, while I still make it to the Tysons Corner store occasionally, the closer Clarendon, Virginia Apple Store has become "my store." I've waited in many launch lines there. And, at present, it's getting an upgrade.