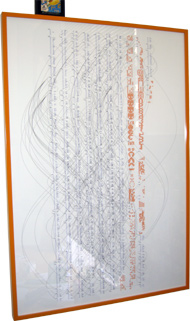 A few weeks ago I ran across an extremely cool nod to retro computing, but wanted to wait to pass it along until I had one in my hands to show. I am referring to Ben Fry's distellamap project.
Having put together the rather interesting dismap and mariosoup projects, which provide a unique glimpse into the code and graphics buried in the typical Atari 2600 cartridge, Fry basically merged these pieces into distellamap. Distellamap is a listing of a game's 6507 assembly code—at most 4K's worth (yes, 4096 bytes!) per cartridge, with every "go to" or jump illustrated with a curved line to the target and every block of data (as opposed to code) represented as an orange square. It's a fascinating thing to behold.
Fry's gallery includes a number of games popular at the time, the most complex of which is Pac-Man, due to the necessary AI for the ghosts. When I saw these could be ordered as prints, I grabbed one and it now adorns my office wall. Click the above thumbnail for a better view, and a second shot is available here.
Amazing effort on Fry's part. And be sure not to miss his deconstructulator which shows, in real time, how such graphics data is accessed from the cartridge by way of a Java-based NES emulator and a live sprite buffer display.