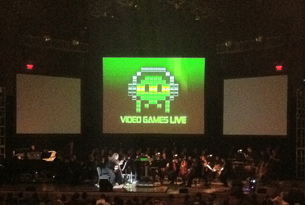 As I type this I've just returned home from the Game Developers Conference in San Francisco, which I covered for TouchArcade. I also attended the Apple iPad 2 press event at the Yerba Buena Center for the Arts on Wednesday where — surprise! — Steve Jobs unveiled the next version of the leader of the tablet market that his company created.
GDC is the biggest and most significant conference of the year in terms of its relevance to TouchArcade as well as the sheer amount of good times to be had among the greatest of great people.
It was an epic week, as expected — and I may make a dedicated post regarding the conference — but the purpose of this post is to share some media that I collected at the Bethesda, MD showing of Video Games Live!, which I attended with the two Imangi guys, Keith Shepherd and Natalia Luckyanova at the Strathmore last weekend, a day before heading off to GDC. What a way to kick off the conference week!
I will borrow some text from the event's website to convey just what Video Games Live! is all about. The event is…
An immersive event created by the game industry featuring the best game music performed by top orchestras and choirs combined with synchronized lighting, video, live action and audience interactivity. The first and most successful video game concert tour in the world.
And, that seems an apt description. It was an insane event with plenty of folks in cosplay where awesomeness abounded. Have a look at a few clips I grabbed during the event.
And here's a gallery of photos from the event. I can't recommend Video Games Live! highly enough to anyone who considers themselves a true gamer.