Just a quick one here. I dug out my Apple Newton MessagePad 2100 the other night to take a video to share around of the Dancing Baby app put together by Arnold Kim (of MacRumors.com) back in 1997 or so. The app is basically a custom movie player of sorts that plays back a pre-processed video of one of the early memes.
While I had the Newton out and powered up, I puttered around the various drawers full of apps and stumbled upon my only real effort in NewtonScript, The Vintage Computer Pocket Reference. It's basically just a little reference app that lets you choose make and model of a computer and see various details about the system. Sadly, I never finished it, having moved on to some other project that usurped my interest.
I put a couple of screenshots up the other day and I see they've gotten some attention, so I thought I'd point them out here.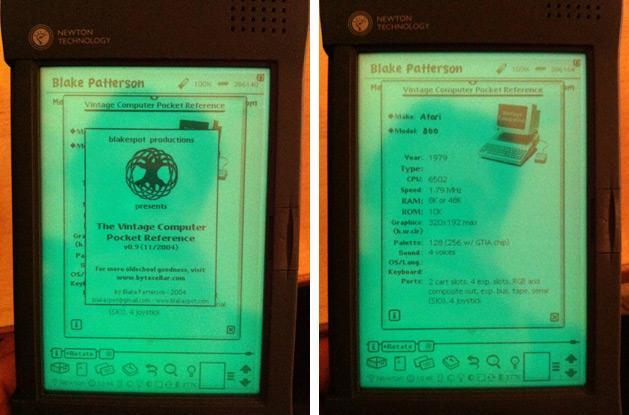 I did most of the development for this rather simple application in late 2004 on my old snow white G3 MacBook, which gave up the ghost long ago when I inadvertently emptied a glass of water into it. It connected to the MessagePad by way of a Keyspan USB-to-serial adapter that's currently keeping my Apple //c tied to the world.
While it's quite unlikely that I will soon be jumping back onto this app, I do still have the code, I just verified. Here's a snippit. And here's the setup I used for development: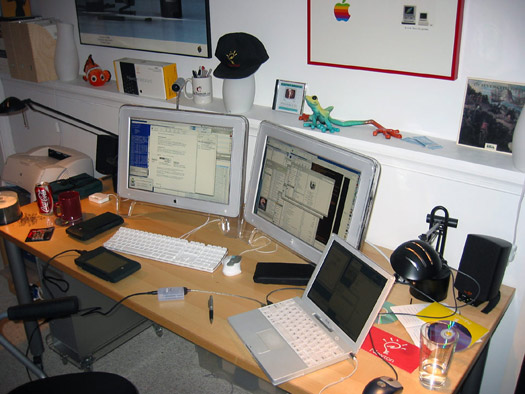 It's with some shame that I admit to not putting my Newtons to frequent use, but I do love to pull them out every so often and play around with a bit of the bleeding edge from the good old days. I don't think it makes my iPhone jealous.