This week was "Wedge Week" at r/RetroBattlestations and I chose to focus on my Apple //c which I recently moved to a bedside configuration for leisurely retrocomputing BBS and IRC usage. This //c has lived in two D.C. offices and a bookshelf in my basement computer room (and it will likely take post in my new cubicle at American University in a short while).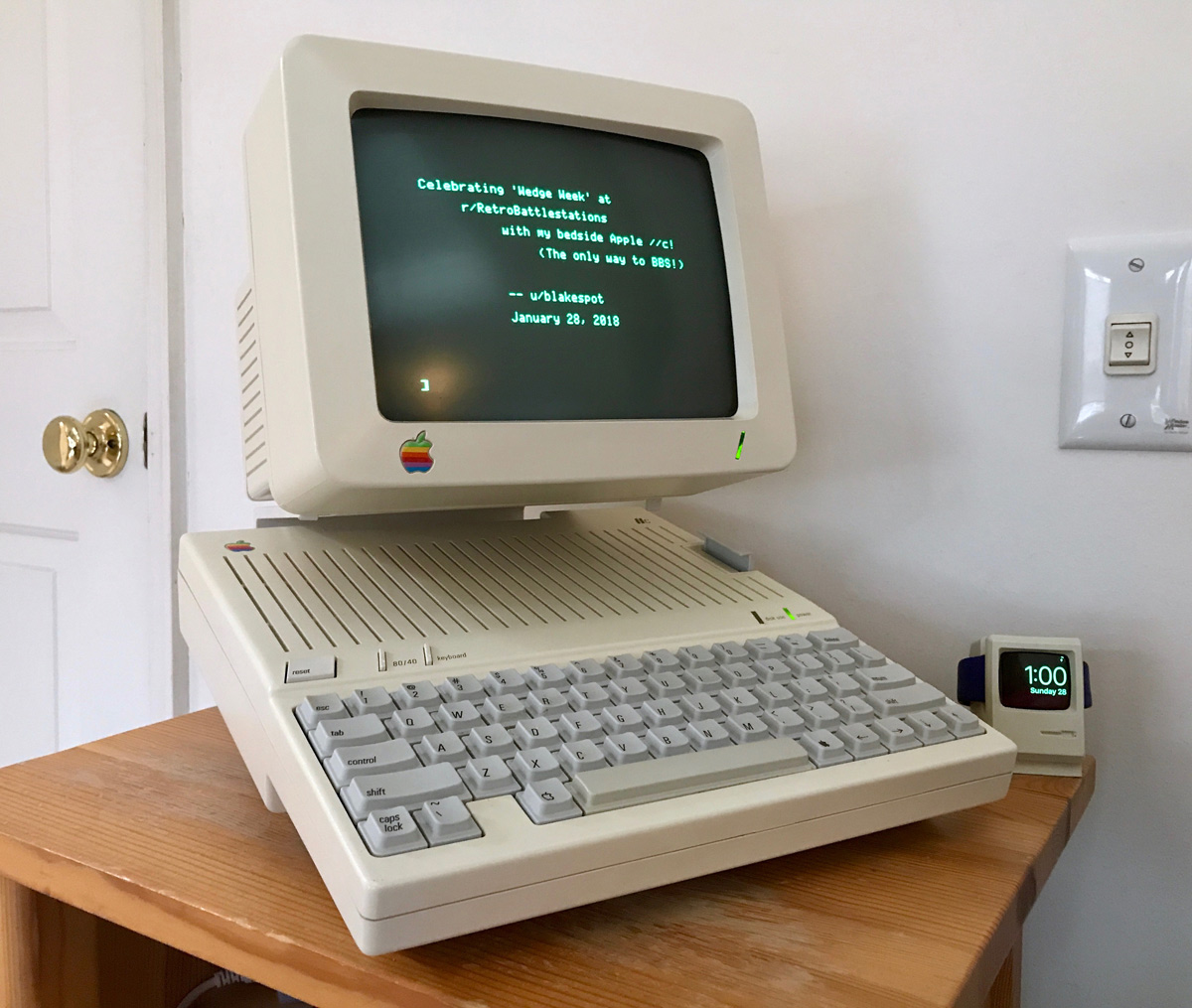 "Wedge Week," as described in the subreddit:
As my collection grows I've found it fascinating how many computers were jammed entirely into the keyboard. This style of computer has pretty much disappeared, although at one time it seems like the majority of the marketplace was filled with them. There's early 8-bits like the original TRS-80 and Ataris, '80s computers like the ZX81 and Sinclair, and even some 32 bit computers like the Amiga were all jammed into the keyboard.

The challenge this week is to show off your wedge shaped computer. The main logic board (MLB) with the CPU, RAM, and ROM must reside within the case that holds the keyboard, and of course the case should have an overall resemblance of a wedge shape.
On the shelf below sits a WiFi-equipped Raspberry Pi 2, a USB-to-serial adapter, and power supply bricks that let me telnet into BBSs and attach to my favorite IRC servers. I use ProTerm 3.1, AgaTe, and Modem.MGR — terminal programs that let me connect with various emulations (VT-100, ANSI, ProTerm Special, etc.) to online destinations.
I have quite a few "wedges" in the collection, but as this is the system I most recently setup in a new location, I thought it would be a good choice to share for this week's r/Retrobattlestations competition.