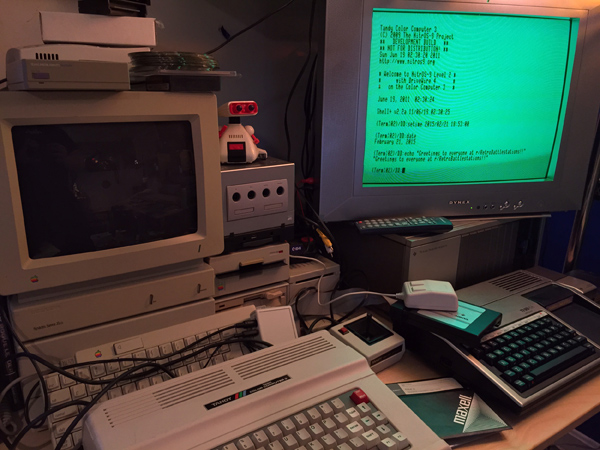 This past week was "Radio Shack Week" at /r/RetroBattlestations, what with the bankruptcy, store closings, etc. For my contribution, I pulled out the Tandy Color Computer 3 and did my thing in the NitrOS-9 shell. (It's a little bit more fun than my Model 4.) Mission accomplished. But, really, it was more fun was playing around with the CoCo 3 given that it was all setup and running. (Sadly, I acquired the CoCo 3 (and a second CoCo 3 and a CoCo 2) after I ran out of space in the computer room, and so it sits on the shelf most of the time.) #sadface
I spent much of the weekend booting up both old favorites and games I'd never tried before. It was a lot of fun. And while I was at it, I took a few very rough videos that I've stitched together into what you see below. It's crude, but I'll bet there are a few games in there you've not seen before.
The CoCo is a great little machine. The Motorola 6809E is arguably the most powerful 8-bit architecture of them all. I really need more desk space to keep this system setup and ready to go. And maybe a Model I, as well…
And the games shown? In order: Flight Simulator II, Sierra Christmas Demo, The Black Cauldron, Super Pitfall, NitrOS-9, Donkey Kong, Silpheed, Pitfall II, Tut, Mega-Bug, Horace Goes Skiing, Pooyan, Time Bandit, Rubes Cubes, and Glove.