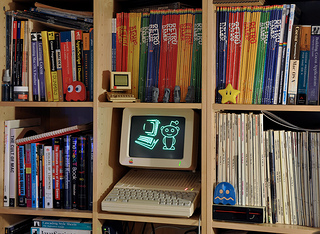 Last week was BASIC Week over at one of my haunts, /r/RetroBattlestations. Retro guy Chris Osborn (@FozzTexx) created a BASIC program that renders out the subreddit's logo along with Snoo (Reddit's mascot) to the computer screen. Chris provided ports to several 8-bit platforms and challenged folks to type in the program on real metal — no emulators — and take a photograph of the glowing, rendered image after a successful run of the program. The greater challenge was to port the program to a system not yet represented. The prizes were retro stickers for several winners, and three months of Reddit Gold for the two grand prize winners.
Intrigued, I fired up ST BASIC on my Atari 520ST and spent some time adapting the Commodore Plus/4 version to the ST. I spent a lot of time trying to figure out why ST BASIC's ELLIPSE function was behaving differently than I expected, and I finally switched over to the dot-plot approach of the Commodore 64 version. I think I would've had it, too, but ST BASIC, it turns out, is rather limited. (It was a nesting thing.) So, with the clock ticking away, I stepped back and typed in the existing Apple II version and had a little BASIC fun on my Apple IIe and //c.
It's interesting that Applesoft BASIC on the IIe can handle deeper subroutine nesting than MetaComCo's ST BASIC. At any rate, I intend to go back soon and spend some more time on the ST to get that version working, just for fun.
In the end, there were some impressive ports worked out by the winners. Did you take part?