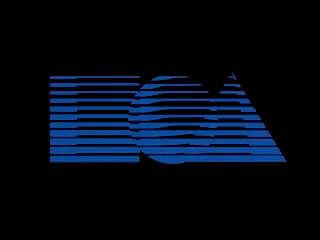 Some of my most treasured items in the basement computer room or "The Byte Cellar" (cue my daughter rolling her eyes) are on the wall. The room is full of system setups from the '80s and '90s, and I love spending time in front of all of them, but the items I've collected, framed, and hung on the walls are some of the most special things in my collection.
One of my most prized retrocomputing possessions is a 1983 poster that celebrates the "software artists" of Electronic Arts. To quote myself in a blog post about the piece,
[Around 1984] the most compelling home computer game studio was Electronic Arts. Back then they spoke of their developers as "software artists" and produced a series of ads that depicted them as rockstars. Their game packaging even looked like an LP sleeve. I recall those ads well and they fed into the mythos that was the Electronic Arts game studio. I had so much fun with Archon, Pinball Construction Set, Music Construction Set, and Seven Cities of Gold in those days it's silly.
The poster came as a fold-out in the November 1983 issue of Electronic Fun with Computers and Games magazine. Back in 2009 I acquired the poster from an acquaintance on IRC, and since then I've kept my eBay eye out for other copies of that magazine. I grabbed one a year ago and gave it to a San Francisco acquaintance with whom I had chatted about the poster at a GDC party. And, about three months ago, I saw another one and grabbed it, not really sure what I wanted to do with it. I ended up trying to sell it on eBay to fund some iOS device purchases, but it didn't work out, and I felt strange about waving around such a notable artifact of computing history to make a fast buck, I have to say.
So, the auction ended — no takers. And then, a day or so later, I get an email from a guy who said he missed bidding before the auction ended and that he had a great desire to own the poster. He spoke of his appreciation of Electronic Arts' history as a pivotal publishing house (way back when) and it was clear that he "got it." Reading his reasons for wanting the poster in his collection, I quickly agreed to send it to him for a rather modest sum. I no longer had that mildly slimy feeling for having tried to peddle this piece of computing history for large-ish profit, and mailed it off with a smile. And, that was the end of the story…or so I thought.
And then a few days later, the guy emails me a photo of his arrangement of the framed poster on his wall, flanked by six of the LP-style EA game sleeves, and it's one of the most impressive sights paying homage to the days when games were games that I've ever seen. It just blew me away, and I had to share it.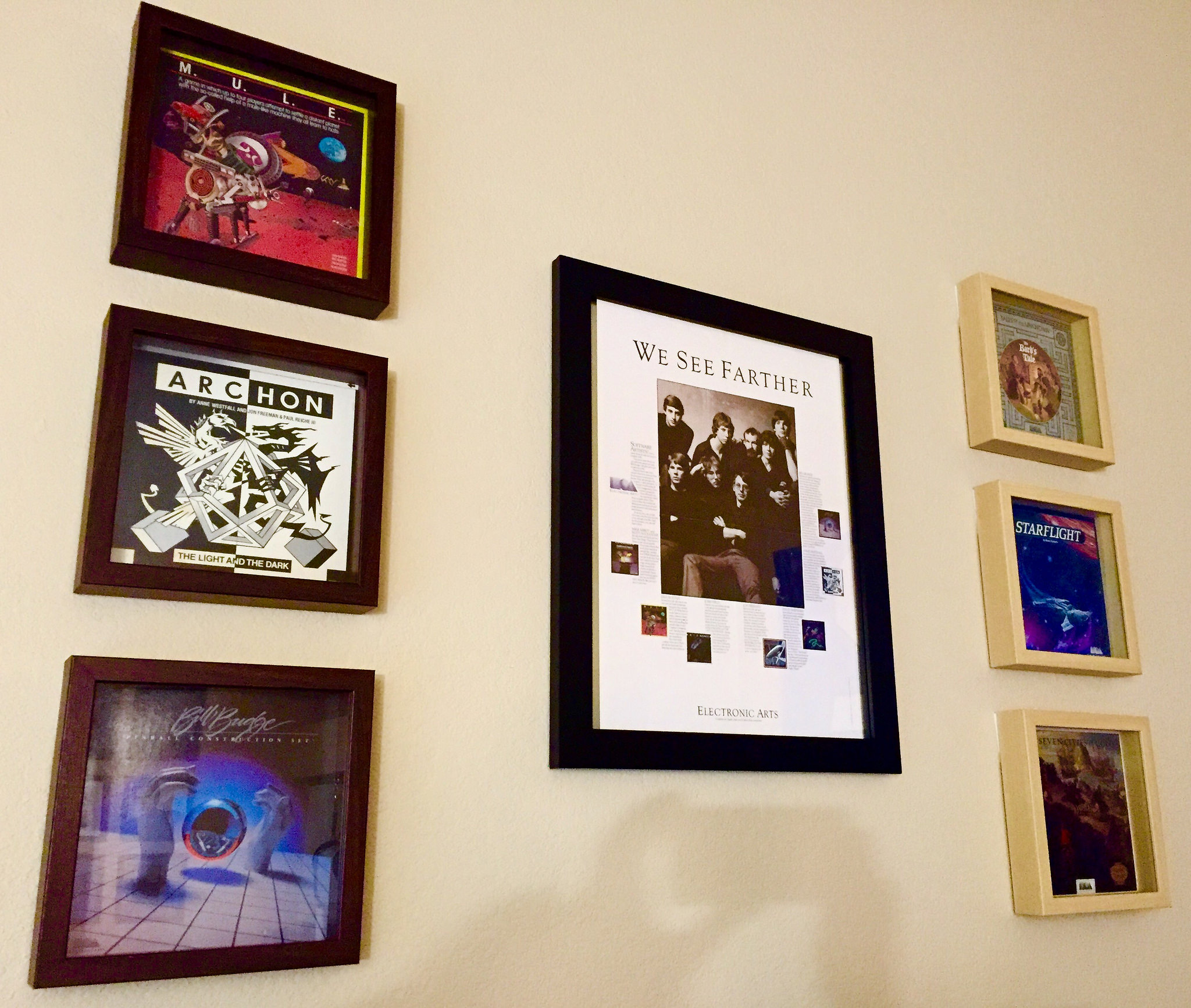 I responded in awe and asked him about his gaming past, to which he told me the following. (And he has asked to remain anonymous.)
About the framing. Actually, when I was younger, I remember my mother framing some of her favorite LP album covers, so, that's where the idea came from. Several years ago, I was decorating a new place and lamenting the price of art prints. I remember what my mom had done, so I went to a few used record stores and bought some copies of albums that meant a lot to me over the years and framed those. Then, a few years ago, I decided to start collecting some computer and video game items, again, focusing on those that were my favorites. I really loved those old EA mini-LP software boxes, and those seemed like a natural for framing, and would fit perfect with the LP's I already had on the wall. So, I spent several months buying 1 game here, 1 game there on eBay. The frames I just happened to find one day in a Michaels… they are the perfect size and shadow-box style.

In 1984, my parents bought me my first computer, an Atari 1200XL, and Pinball Construction Set was the 2nd disk-based game I'd ever bought. That pretty much started my love affair with those early EA games. That game just blew my mind, and everything from Object-Oriented Programming to the game modding scene seems to own some debt to Bill Budge. My next-door neighbor ended up getting an Atari 800XL, and he and I easily sunk hundreds of hours into head-to-head gaming with MULE, Dr J vs Larry Bird, Archon 1 and 2, etc. EA was such an innovator then, Trip Hawkins was an absolute visionary. I have to say, the poster really just brings that entire EA collection together.

I have some other items… I've managed to pick up an Atari 1200XL, a version of my 1st modem (without which my life would certainly be quite different), an Amiga 1000 (my favorite computer), and a couple of shelves of old-school big-box games… Star Raiders, Spy Vs. Spy, Star Control II, Civilization I, Railroad Tycoon, etc. But those old EA boxes are the pride-and-joy of the collection.
Providing this fellow with this historical piece that he so completely appreciates is one of the most satisfying things I've ever done in my hobby as a retrocomputing enthusiast. I am sure all of my readers will be as stunned as I by this amazing display.
The Internet brings those of us with these particular fringe interests together, but this is one of those times that I truly wish I could meet, in person, the collector behind this magical display. (And, anonymous friend, the Amiga 1000 is my favorite of them all, as well.)