A computer geek all my life, in my youth I was a member of several different local computer users' groups in the Hampton Roads area of Virginia. In 1983 I joined my first, becoming a member of the Peninsula '99ers, a group centered around the TI-99/4A (my first computer). After moving to an Apple //c, I joined an Apple II group that may have been called the Peninsula Apple Corps. (memory fails me there). A few platforms later, I became an Atari ST user and joined P.A.C.E., the Peninsula Atari Computer Enthusiasts.
P.A.C.E. was a group originally focused on the Atari 8-bit home computer, but expanded to include the ST when it was launched. The group had a supporting newsletter as well as a BBS. We met once a month, had the occasional picnic and pool party, held raffles, ran shows, and were involved in various other local events. Most of our meetings were held in the computer lab at the Gloria Dei Lutheran school (which I discussed in an earlier post). I joined P.A.C.E. in late 1986 and was a member until I moved to my next platform, a year and a half later. I recently got in contact with another member of the group and he unexpectedly provided me with quite a stroll down memory lane.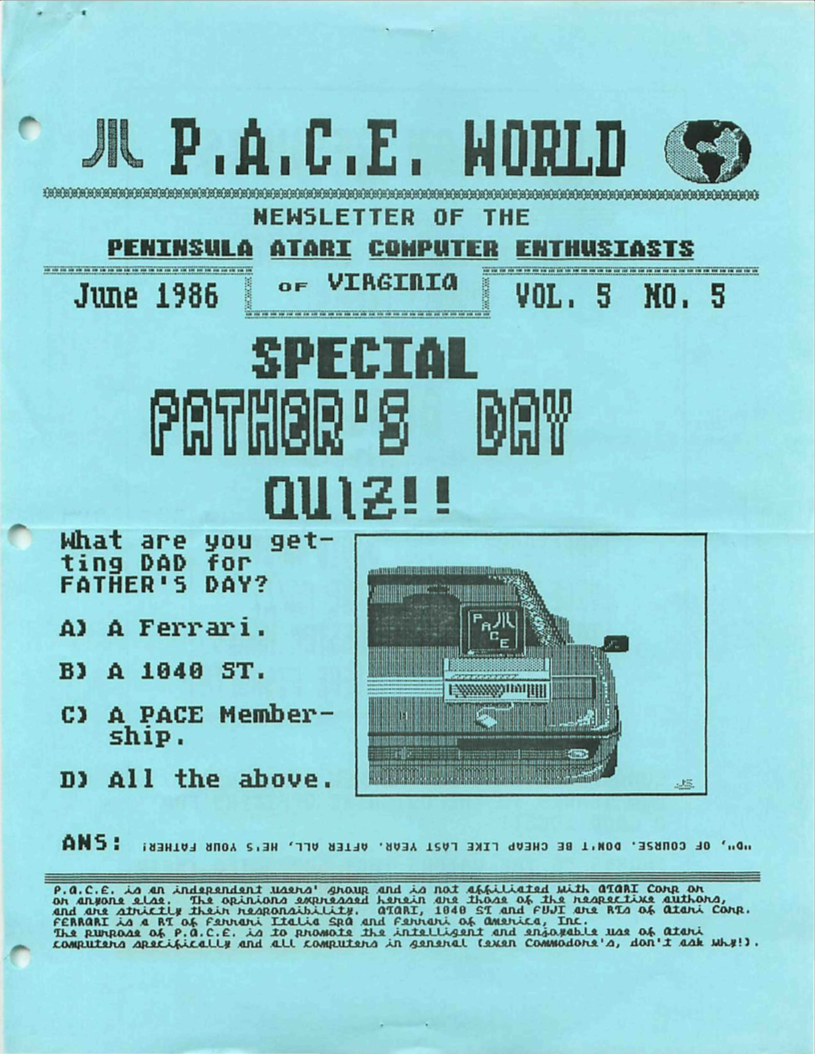 I first encountered Shannon Hendrix online on various local bulletin board systems, and then in person when I joined the group. He was, at one point, VP of the club and was heavily involved in local computer-related events. We were recently chatting about the good ole' days of P.A.C.E. and the Atari when he told me that he had scanned and preserved a number our group newsletters, P.A.C.E. WORLD. The newsletter was a monthly publication created primarily in The Newsroom on Atari 8-bit computers and put together with both virtual and a bit of real-life cut-and-paste. Shannon was willing to share them with me and I have to say, reading through them was like being in a time machine dialed back to 1986. I remember all of the names, most of the faces, and see that I was even mentioned in one of the issues (June 1987, page 8 [PDF])!
While I can't imagine anyone else from the group will encounter this post, I wanted to share these newsletters to give readers a glimpse of a little corner of Virginia way back the "home computing" days.
See the full list of PDF scans of the P.A.C.E. WORLD newsletters. (Thanks, Shannon!)
For completeness I will mention that, several more platforms later, I moved to the last users' group that I ever joined, A.L.F.A., the Amigaoid Life Form Association, a local Commodore Amiga group. (Yes, I was on both sides of the Amiga vs. ST war — and switched sides a few times!) Time spent in connection with all of these groups are some of my best memories, growing up.
I share other details about my users' group memories in my earlier blog post, "Computer Users Groups of My Past" (2014).