Back in '03 I grabbed an SGI O2 system on eBay. I always wanted an SGI to play with (used them in the lab back in college for a bit) and it seemed the O2 was the best bang for the buck. To go with it I grabbed an almost-new SGI 1600SW widescreen, flat-panel display. 17.3-inches diagonal, 1600×1024 native resolution at 110dpi and an industrial design that's won awards. [ Informative PDF here. ] A lovely display. The thing is, I really don't use the O2 very often — glad to have it, but it sits idle most of the time. But that screen. What a screen….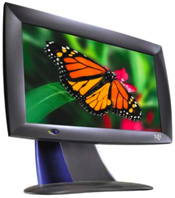 I recently pulled my media PC out of the entertainment center and installed Ubuntu Linux on it as a second OS (XP's on the box, as well). Just wanted to play around with Compiz Fusion, really. At any rate, it occurred to to me that the 1600SW would make a lovely display for that box. But sadly the SGI display is not DVI, but an LVDS signal. Happily, there are DVI to LVDS converters.
The best and most versatile is the SGI Multilink, an external box — but it's costly. $400 on eBay is not an uncommon thing to see. As such, I've gone with a cheaper alternative: the GFX-1600SW Multilink adapter alternative. It sits in a PCI slot (it just draws power — it's not a graphics card) and converts a DVI signal to LVDS. Sadly, it doesn't do much in the way of scaling non-native resolutions, but it was much cheaper than the SGI Multitlink.
In searching for information about the GFX-1600SW, I ran across a link that was 404-ing, but a trip to archive.org revealed the page. As it seemed helpful to folks trying to make modern use of the 1600SW, I've captured it and placed a copy here, on this site. Have a look. I tip my hat to 'Orion,' who created the page.
Wish me luck in this endeavor. The adapter is in the mail — I'll let you know how things turn out.