Peter Hirschberg is my new hero. This retro game-craving lunatic / genius has placed upon this earth a 60'x40′ patch of pure, unadulterated heaven. To the unwitting passer-by, this magical space may appear to be nothing more than a sizable garage, but what is contained within is almost too wonderful to be believed. I am referring to the Luna City Arcade. It is without doubt the most splendid arcade ever to have existed in this world, for within lie 57 classic arcade cabinets – from Asteroids to Zaxxon – all lovingly restored to shining perfection by Peter himself. A herculean effort, as nearly all of them came to him non-functional and in downright "disgusting" condition. (Peter's personal fav's are Discs of Tron, Tail Gunner, Space War and Lunar Lander.)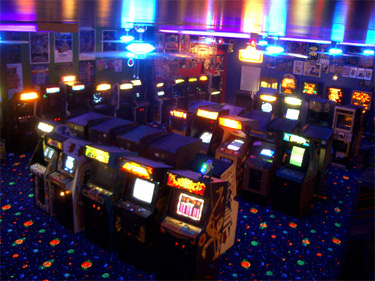 It is a magical place and Peter is good enough to occasionally open it up the retro game-thirsty world, hosting "Game Days" to select folks on his mailing list. I, personally, would be able to die in peace if I am ever so lucky as to spend but a few moments in so wonderful a place – a place that happily is but an hour's journey from my Northern Virginia (DC area) home.
See the full gallery, walk-through video and interview over at Gizmodo. And Peter…I bow down to thee.
UPDATE: Peter has setup a website for the Luna City Arcade. And he's even writing retro iPhone games! Go Peter!