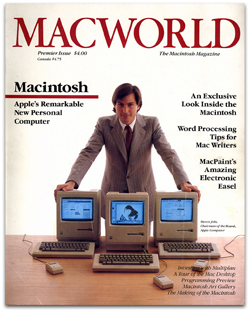 Yesterday Apple unveiled the iPhone 6 line along with the Apple Watch. This latest iPhone brings the largest number of enhancements of any new model ever released, while the Apple Watch might just be the beginning of the proliferation of an entirely new type of personal electronic device that finds its way onto the wrists of hundreds of millions. Alongside all of this, the Macintosh line — both desktop and portable — are thin, sexy, fast, and selling quite well. Apple has never been more popular or relevant than it is right now.
And yet, today, Macworld magazine, which has been with us since day one way back in 1984 when the Macintosh first came to market…basically fell apart.
The tweets started rolling in just after 1pm.
I vividly remember the roll-out of the original Macintosh in 1984, when I was 11, and the degree to which I lusted after it for months. I had an Apple //c at the time, but I really wanted a Mac, and Macworld was better than a Playboy for me until I got my wish in late 1985.
I have many copies of Macworld on my shelves and I love to sit down and flip through them from time to time — especially the early issues, they really take me back. I recall my father and I building a wooden desk for the original Macintosh in 1985 — months before I had one — based on plans published in one of the first issues. (I am actively searching for the issue in question, so I can do a post on that long-ago particular.)
On the one hand, it seems amazing that with Apple at the top of their game such a magazine is not sustainable. On the other, a magazine covering time-sensitive tech news is set up to flag in the face of real-time web reporting. It's great that the plan is for Macworld to at least live on in web form, but one has to wonder how that will work out, given that basically the entire writing staff was let go today.
Macworld was an institution. I feel it most critically went a long way towards spreading the faith in the early days but, really, it has always been a true friend to those within the Apple fold.
Today is a sad day.