A few weeks back I wrote a post detailing my desire to build a 486-class DOS box. In the time since then, I've been actively digging parts out of my storage shelves and scanning eBay for the remaining, needed items.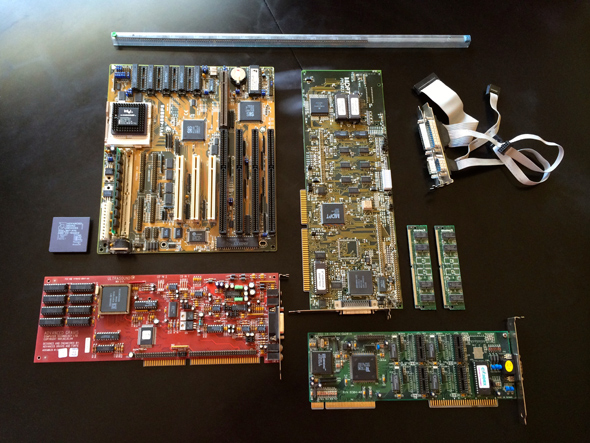 I though I'd post a list of parts for this build, and where I am on each right now, given that things are getting pretty close to go time.
In hand:
ASUS PVI-486SP3 motherboard
AMD 5×86 133 CPU
Tseng ET4000/W32p-based VLB video card
V53C8256HP45 DRAM DIPs to double video card's RAM (to 2MB)
Gravis Ultrasound (Classic, ISA) w/ 1MB RAM
DPT PM2021 SCSI controller (ISA)
Logitech MouseMan 3-button serial mouse
MS-DOS 6.22 install floppies
Windows 98SE install CD
Ordered, on the way:
AT-class desktop case with 3.5-inch floppy drive and PSU
3COM EtherLink III 10base-T ethernet card (ISA)
2x 16MB 60ns Fast Page Mode,  non-parity DRAM SIMMs
Nine CY7C199CN-15PXC 15ns, 256Kbit, parallel SRAM DIPs (to provide 256KB motherboard L2 cache)
486 heatsink / fan
Arctic Silver 5 thermal compound
Yet to procure:
SCSI CD-ROM drive
SCSI hard drive
IDE 5.25-inch bay combo flash RAM card reader
Now, as I mentioned in my earlier post, I am basically trying to build a replica of the PC I had in 1996. It started out as a 486DX2 66 in 1994 and was upgraded over the next two years. Because of my rather particular hardware requirements, this project has taken on a cost well beyond what I had initially envisioned. I think I've spent close to $500 so far, though the original 486DX2 66 I procured to run NeXTSTEP for Intel in 1994 cost a full $4,500 (= student loan).
The purpose of this machine is to have an (ideal) vehicle upon which to enjoy mid-90's era DOS demoscene productions, MOD/S3M/XM audio tracks, and games. The system should be capable of running Windows 98SE quite well, but that's really a secondary consideration.
I shall post another update in a week or so — that, perhaps, being a full build video. Time (and shipping progress) will tell.