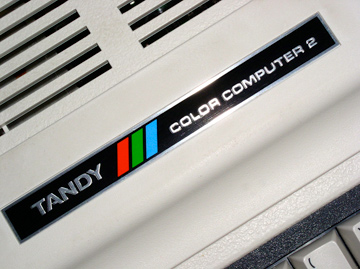 Ever since reading The Soul of a New Machine, Tracy Kidder's Pulitzer Prize-winning account of the creation of a 32-bit minicomputer, I've been a hound for any such works offering behind-the-scenes looks at such periods of silicon genesis. They are, to me, the very most interesting things to read.
Over the past decade, I've found and enjoyed quite a few such stories regarding a variety of platforms and technologies. Of course, not every system of my personal interest has been covered in this manner. One of those without a nice, public genesis chronicle is the Tandy Color Computer, which is a platform I added to my own collection only recently. I'm pleased to report that this won't be the case for long.
Notable CoCo-scene personality and all-around super-nice guy Boisy Pitre, who I recently covered here in regards to his fascinating Liber809 project, has partnered with video game historian Bill Loguidice from Armchair Arcade to bring forth a book chronicling the history of the Tandy Color Computer.
Pitre and Loguidice have interviewed many individuals from the old days at Tandy, including all members of the CoCo engineering team, in order to render what will surely be a most fascinating history of of a machine that certainly deserves to have its story told.
In part two of a recent series of RadioShack Memories videos capturing a discussion between Pitre and former Tandy engineer Jerry Heep, Pitre explains the motivations behind his coming book. (Part one and part three are worth a look, as well.)
It seems that Pitre and Loguidice are aiming for a release at the end of this year, and I'll let you guys know when it lands. I'm very much looking forward to it.
For those who share my interest in such things, some of the other books of this sort that I've enjoyed are:
[ Photo courtesy of Christopher W. (moparx) ]