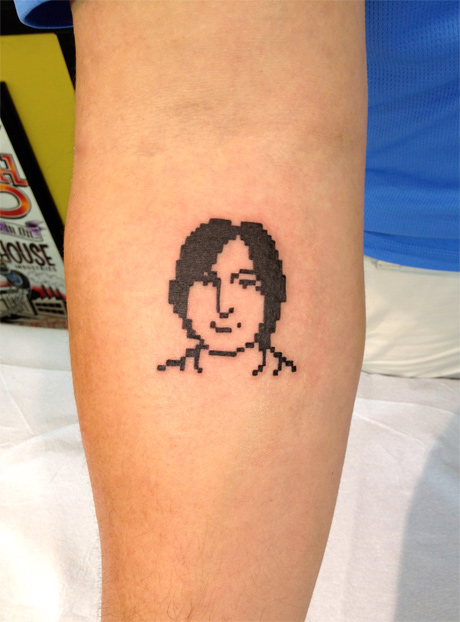 I got my first geek / tech tattoo back in 2007. I decided to go for an icon that captured both gaming and the element of retro: the ubiquitous Space Invader. I put a call out for opinions on just which Invader to get, and I had it inked. Three years later, I decided to let the world know I have a chip on my shoulder (as if my Twitter feed isn't enough), and had a 6502 indelibly laid on my flesh. (Ok, it's an approximation — 40 pins seemed a lot.) Dave Waugh down at Jinx Proof tattoos in Georgetown did the work, and I love them.
Now, anyone who has followed my writing across any of the sites I've run since the web began knows that I'm a rather devout Apple fan. I've owned lots of Apples over the years, and that's because I love them. Given this and my recent interest in tattoos, I've wanted some kind of Apple-related tattoo for some time. On October 5th of last year, Steve Jobs passed and, unsurprisingly, it affected me deeply. With his passing, it became obvious to me that I wanted my "Apple tattoo" to be an homage to this man who so powerfully influenced my life and shaped my career.
After a bit of contemplation, the perfect Jobs tattoo design popped to mind. Early GUI work at Xerox PARC has long fascinated me, and its delivery to the consumer market, first with the Apple Lisa and later (and far more significantly) with the Macintosh in early 1984, is a major — perhaps the major — moment of paradigm shift in technology over the last quarter-century. Icons were in and the command line was out. But, somebody had to draw all those pretty pictures.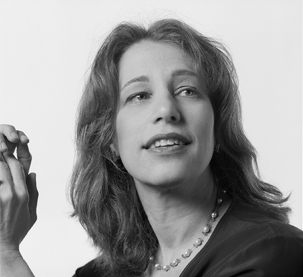 That person was Susan Kare.
Born in Ithaca, New York in 1954, Kare joined Apple in 1982 after receiving a call from high school friend Andy Hertzfeld, major designer of the Macintosh system software and co-founder of Radius, General Magic, and Eazel, suggesting she come to the Cupertino-based company to design user interface graphics for the upcoming Macintosh. While at Apple, Kare created all of the Mac's bitmap icons, as well as several fonts, including Chicago, Monaco, and Geneva. Her business card read "Macintosh Artist." Later, When Steve Jobs left Apple and formed NeXT, Kare came along to become the company's Creative Director. She, later, produced icons and pixel art for both Microsoft (for Windows) and IBM (for OS/2).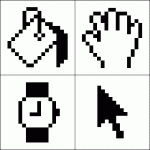 During the development of the Macintosh, Hertzfeld created a pixel editor for Kare to use to create the all-important GUI icons on a 32×32 pixel grid. And icons, she created. One night, he happened into her cubicle to find her laboring over an icon portrait of their project leader and Apple co-founder, Steve Jobs. The story is chronicled on his website, Folklore.org. Herzfeld was skeptical that a convincing portrait could be rendered in just 1024 pixels but, alas, she had done it. 1983 Steve Jobs was eerily well captured by her artistic skills in that small grid, and soon the rest of the Mac team was asking her to render likenesses of them in those tiny bitmaps.
I have long been impressed by Kare's Steve Jobs icon and, given my deep passion for retro computing and admiration for the late Captain of Apple, it seemed Susan Kare's Steve Jobs icon was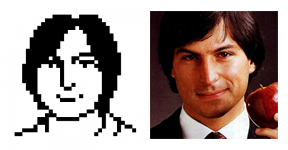 the perfect image to have permanently emblazoned upon my skin as a salute to the man's passing as well as the world-changing work with which he and his team gifted us.
Dave Waugh over at Jinx Proof did the work today (as well as refreshing my 6502 tat), and I am stunned by the excellence of it. I now wear one of Susan Kare's most notable icons upon my person, and in a nicely visible spot on my right arm. And, I'm happy to share it with all of you out there.
So, what do you think?
UPDATE (April 2018): Susan Kare has seen photos of the 1024-pixel grid of ink on my right arm and does approve, I'm rather pleased to say. In fact, in the years that followed she used a photo of the tattoo in the conclusion of her EG 2014 talk, and has sent me a few "Kare packages" as a friendly nod. What a lovely individual she is.