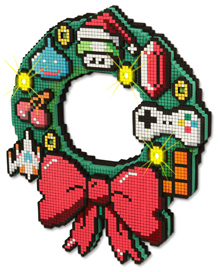 I've been a computer guy for a long time now, but I've been enjoying Christmas even longer.
I got my first computer, a TI-99/4A, on Christmas morning, 1982. I was 10 years old, and from that Christmas on, it was games and hardware I wanted Santa to leave me under the tree. On through my teenage years, part of my ritual for getting into the Christmas spirit and enjoying the holidays was downloading and watching Christmas demos on whatever system I had at the time (and every platform out there had a few of them).
Enjoying these demos is a personal tradition that I had, sadly, long left behind until last Christmas when I was inspired to seek out one of the demos I remember best, Audio Light's 1985 musical slideshow for the Atari ST. With the help of an emulator, I captured it to share online with readers.
Here, a year later, I recently brought it up and watched it run through it's pixellated images and 3-voice musical holiday greeting. As I watched, it occurred to me that it might be nice to gather a few of the other demos I remember from those good ole' days and present them here, in order to perhaps share some of the holiday cheer that they used to inspire within me.
The following list of demos ranges across a number of platforms of olde. I'll start with the Atari ST demo I presented last year. Happy holidays, and I hope you enjoy the shows!

Atari ST: Audio Light Christmas demo (1985)

C64: Seasons Greetings from Commodore (1982)

DOS PC: Sierra On-Line's A Computer Christmas (1986)

C64: Magic Disk Christmas demo (1989)

Amiga: Psygnosis' Holiday Lemmings 1993

C64: Jingle Disk Christmas demo
UPDATE (12/2011): It's not a Christmas thing I've ever seen in person, but after just being reminded of it online, I had to add Sega's two-level Saturn freebie Christmas NiGHTS to the list. What a lovely game it is.

Sega Saturn: Christmas NiGHTS (1996)
UPDATE (12/2012): Here are a few more demos I've found and added in before I re-tweet this now-year-old post for the 2012 holidays.

Atari ST: Snowman demo (1987)

MSX: Snowfall demo (2003)

MSX: Christmas Eve demo (???)
UPDATE (12/2013): And, a few more Christmas demos for the third Christmas this post has seen. Have a look, and have a happy holiday!

C64: A Twisted Christmas (1988) [ Nice stereo SID action ]

Atari 8-bit: Christmas Collection (1991)

C64: Waveform Christmas Hit Disk (1984)

Apple II: MUSE Santa demo (1980)

C64: Christmas Is Awesome demo (2012)

C64: Christmas Carols (1984)

Various: Season's Greetings from The Glasgow School of Art (2013)

Tandy CoCo: Christmas songs and animations (1984)

Apple IIgs: FTA X-MAS Demo (1990)
[ The video is interactive – roll over it. A big thanks to Ken Gagne for this one! ]

ZX Spectrum: Computer Christmas Card (1985)
UPDATE (12/2014): Yet more Christmas demos from out on the Internets for the fourth Christmas in a row this post has been updated. Enjoy, and have a happy holiday!

C64: Twisted Christmas II (1989) [ Stereo SID chips ]

C64: Christmas Around The World (1987)

C64: Christmas Special 1987

Commodore Pet: Musical Christmas Tree (CURSOR magazine) (1979)

Atari 8-bit: Merry Christmas Demo (1981)

Amstrad CPC: Christmas games and demos

Atari ST: BITS #34 Christmas 2007/8

C64: Lincoln Computer Club Merry Xmas demo
May this holiday season bring you all faster modems and floppy disks galore!