In late September, Eric Chahi's superb sci-fi platform action adventure, Another World [App Store], arrived for the iOS platform. I reviewed it shortly before it launched, over at TouchArcade. It was excellently translated to iOS by DotEmu and I gave it a full five stars. If you're an iOS gamer, it should be on your device.
When Another World landed, I had been eagerly awaiting its arrival since March, when we first heard that it would be coming to iOS during its creator Eric Chahi's excellent session at the 2011 Game Developers Conference in San Francisco. But, my familiarity with (and love for) the title began much earlier, shortly after its initial release through Delphine, back in 1992. In fact, I had a Mac LC at the time, and when I saw it on my friend's DOS PC, it motivated me to go back to the Amiga in order to play it. It's just a lovely game in all respects.
Not long after I interviewed Eric for my early review post, he contacted me asking for my mailing address. That had me rather curious, and I provided it to him, and the matter passed out of my mind until about three weeks later when I received a cardboard tube in the mail…from France. What I found inside stunned and amazed me. Eric had sent me a rare treasure, indeed.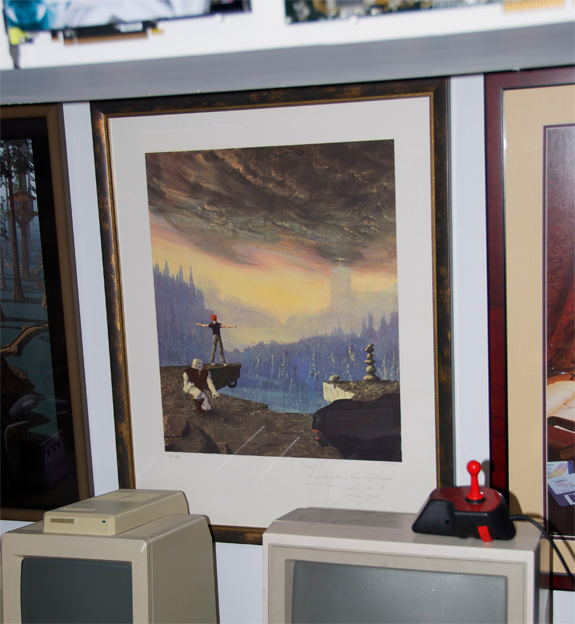 Eric, who is an artist beyond the realm of game development, wanted to do his own cover art for Another World, and Delphine was cool with it. He produced a stunning oil of an alien landscape featuring our hero Lester in a moment of liberation, standing at the precipice, feeling the wind of an alien world blowing through his hair. I've long considered it a very moving piece. And so, apparently, did Delphine CEO Paul de Senneville.
Paul de Senneville was a contemporary art collector at the time, and he was so fond of Eric's Another World oil that in 1991 he commissioned 120 lithograph prints to be made on acid-free fine art paper. Eric informs me that about 50 of them have been signed and distributed, most of the rest having been lost and forgotten at Delphine. He has been keeping a small number of the prints himself, however, for some "special people," and he indicates that my obvious passion for the game, along with the photos I shared of my own "Byte Cellar," inspired him to sign and deliver one of these rare prints to me. I do not exaggerate when I say that, of all the objects in my room of vintage machines, Eric's Another World lithograph is my most treasured.
Since receiving the print, I have had it framed (notice how the frame matches the clouds…nice, eh?) and found a place for it on the wall of my computer room, alongside my lovely MYST Channelwood poster, appropriately just behind my Amiga.
Thank you once again, Eric.