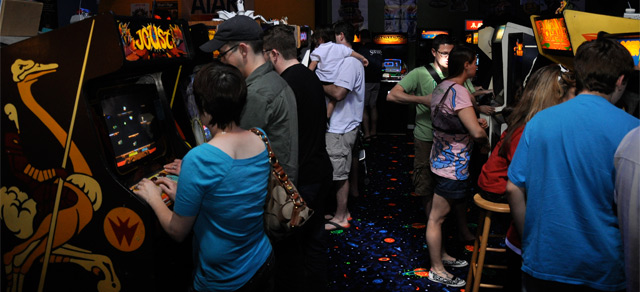 When I was a kid, arcades were magical places.
They were dark gaming halls lit only by phosphorescence and filled with folks having a white-knuckled good time. The bleeps and bloops emanating from all the cabinets in the room came together in an intoxicating, cacophonous cloud that pleasantly surrounded you. They were where "real" video games lived, games that far outshined whatever approximations you might be lucky enough to have tied to your TV back home.
This is no longer the case, though. Home consoles and PCs grew ever more powerful, and the arcade lost its distinction. It became superfluous. (I consider the Sega Dreamcast home console to have been the final nail in the arcade's coffin.)
I feel that today, almost without exception, "arcades" are sad and confusing places devoid of a soul. And, so, it is with fond remembrance that I watched an ABC news segment entitled "Video Fever – Games People Play," broadcast in 1982 by a station in L.A. It was aired at a time when video games were a new, mainstream hot topic, shortly before the crash of 1983.
I saw this video thanks to a post over at Arcade Heroes, which links out to a few other early '80s arcade videos, as well. What a trip down memory lane!
Coincidentally, shortly after watching the above ABC piece, I ran across a recent story about the most incredible arcade I have ever visited: Remembering the Best — Luna City Arcade. Luna City is — well, was — a wondrous, spacious arcade, filled with around 60 classic cabinets from the '70s and '80s, all wrapped in neon '80s decor. It was also the private collection of one man, Peter Hirschberg.
I first wrote about the Luna City Arcade back in early 2008. I, then, got to know Peter in covering his retro iOS game releases, Adventure and Vector Tanks Extreme, for Touch Arcade. Peter invited me to one of the open-to-the-public "game days" he would hold a few time each year, and I got a chance to drive out to his home (and repurposed garage) about 70 miles west of D.C. and experience his arcade for myself.
And, it just blew my mind. It was probably the most wonderful place I have ever seen — a 60'x40′ patch of heaven.
I captured the above video during the April 25, 2009 game day I attended. Additional glimpses of the event can be seen in my photo set. I covered the trip out to Luna City over at Touch Arcade, but seem not to have posted about it here.
I am sorry to say that the game day I attended turned out to be Luna City's last, and I count myself extremely fortunate to have been able to experience its wonder. For personal reasons that I won't get into, Peter has sold the games and the Luna City Arcade is no more.