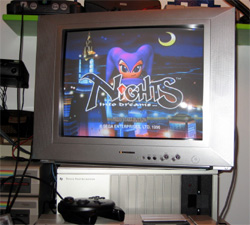 I've been having a lot of fun in the gaming corner of my own little Byte Cellar (the basement computer room). Not long ago I gathered up certain of my consoles which were scattered about the house, threw up a shelf, grabbed an s-video to chroma/luma cable, and tied it all up through an s-video switchbox to a nice little Teknika 13-inch CRT that was doing duty as my TI-99/4A's display. Much gaming joy ensued.
But 13-inches in today's world? This was my thought as I was wandering through Best Buy and spied a 20-inch, 4:3-ratio, oldschool CRT-based television. It occurred to me that these relics may not be sold much longer (there were only two other, similar units in the whole store). The set has coax in for cable, as well as composite, s-video, and component inputs. It sounded good to me, so I laid down a little over $100 and walked out with a new monitor for the gaming corner!
While not as sharp as the 27″ Sony VVEGA CRT that used to be the center of our entertainment center (no longer), it does a great job with these old consoles. The GameCube owns the component input while the rest of the consoles share the s-video input, and the good ole' TI sits on the composite. Happiness abounds.