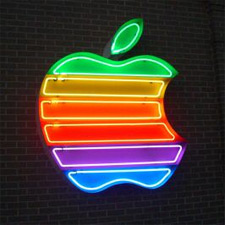 Someone in a recent IRC chat pointed out to me an eBay auction for what might actually be the object on this earth that I would most like to possess, surpassing all other material items by a rather significant margin. More than the fishnet stocking-shrouded leg lamp of the "you'll shoot your eye out" kid, this is electric sex.
I point you to the six foot tall Apple logo neon sign.
The auction started at $2,500 and is, at the time of this post, up to $4,500 – and the seller's reserve price has not yet been met. If bidding on this item would not have exactly the same effect on my marriage as engaging in 3-way-sex with a couple of call girls and handing my wife the video, I would be unable to restrain myself from going after it. Alas, I shall not be the one member of the human race able to daily bow down in worship in front of so glorious an icon.
Happy bidding.
UPDATE [10.31.2007]: No, I didn't break down and bid to win on this one. But a cool $10 on eBay did land me a little goody that glows at least a little Apple Goodness in my own Byte Cellar.