Today at 1pm it was done. My second tattoo (my first geek tattoo), a Space Invader, was inked on my right shoulder by Dave Waugh of Jinx Proof tattoos in Georgetown. I am most pleased with the results. Have a look for yourself.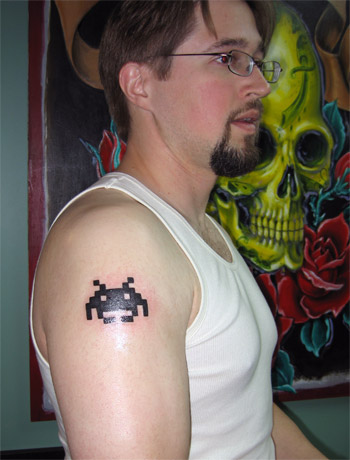 Thanks for all the responses to
my call for opinions
on just which Invader is the best. As anyone who has followed this can tell, I went with "the third Invader."
As I said in my last post, it's not that I'm a huge Space Invaders fan per se, the icon just seems to well represent the three things I was going for: gaming, retro computing, and the 80s in general — a sort of crude petroglyph found on the walls of the cave of computing history, if you will. (I know you will…)
I wonder if this will be my last tattoo…?