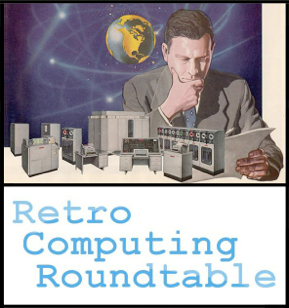 I know I said my next post would be my personal tribute to Steve Jobs — and that post is coming — but I had to jump in and share an absolutely exceptional experience I had this past Sunday, with my readers.
I've said before that some of the most pleasant experiences that today's tech provides me — and it's Apple's tech that's really to thank here — is the retro computing podcast. The first such show that I started listening to was Earl Evans' RetroBits podcast in 2007, and I branched from there to Carrington Vanston's Apple-centric 1MHz Podcast, and from there I jumped onto many others. I've followed these guys onto a number of projects — I have Earl to thank for my Epson PX-8 — and it's been great.
On Sunday, I had the chance to join Earl Evans, Carrington Vanston, and Atlanta-based computer historian David Greelish (who I pointed to back in August) on their still somewhat new and absolutely exceptional joint podcast Retro Computing Roundtable. It was an honor and an absolute thrill to chat with these folks about that which most fascinates the lot of us: retro computing.
I can't tell if I should be embarrassed or proud to say that I was so long-winded that they had to split the show into two parts. Let's call it both, with a smile.
David, Earl, Carrington — thanks so much for having me and I would relish the opportunity to try and wear out my welcome at some point in the future. Actually — to be honest — the podcast was great, but I'd be equally happy with just a group chat, offline sometime. It's rare that I am able to have dialog with such like-minded, intelligent, and wonderful folks.
Please have a listen: Retro Computing Roundtable (episode(s) 17)