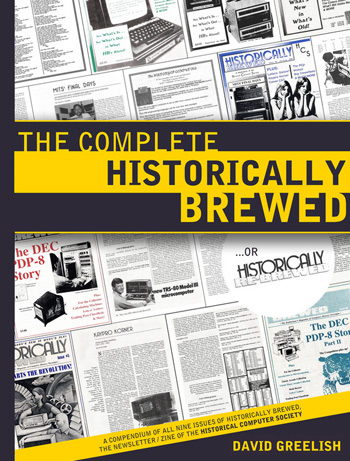 Some of the greatest enjoyment I get out of the Internet is listening to (or watching) the various podcasts that I've come to follow. Most of them, perhaps unsurprisingly, are retro computing themed. In fact, it was a retro computing podcast that got me listening in the first place: Earl Evans' excellent Retrobits Podcast, which I began enjoying back in 2007.
Earl has recently become involved in another retro computing podcast, the Retro Computing Roundtable, which he hosts, along with David Greelish of The Classic Computing Blog and Carrington Vanston of 1MHz: The Apple II Podcast (another show I enjoy).
The reason for this post is to let readers know, here at the eleventh hour, of a computing history project that the aforementioned David Greelish is working through Kickstarter.
David, computer historian and president of the Atlanta Historical Computing Society, published a zine from 1993 to 1997 entitled Historically Brewed. It garnered 500+ subscribers and was even sold at the Smithsonian and the Computer History Museum in Boston. Nine issues were published, and a tenth issue exists, but never made it to print.
David is seeking funds through Kickstarter to publish all ten issues of his zine together in a compilation book along with a lead-in providing his story, to lend a bit of background to the works. The book, entitled The Complete Historically Brewed, will be about 195 pages in length.
Here's David with a few words about his project:
While, thankfully, the book is totally funded and then some, this is the last weekend for pre-orders leading up to the initial print run. I wish I had posted this news a month ago, but better late than never. I made my donation this week and have the lovely reservation certificate David sent me hanging on my wall. I can't wait to get my copy!
Why not order one for yourself?