This past weekend we had some water issues in the basement (the unfinished, non-Byte Cellar part of the basement) tied to our A/C unit. In hunting down the problem, I had to displace many of the boxes in which my retro treasures came to me. And, after the issue was all patched up, I was forced to again evaluate my stance on saving these cardboard vessels of years past from which hatched so much vintage computing goodness.
Most retro computer collectors value the inclusion of the original box in any acquisition, and I'm no different. But, the problem is, once the hardware inside is removed and properly set up, the boxes simply section off valuable spaces of air in my basement. And I've decided I just can't afford that in my tiny basement storage areas.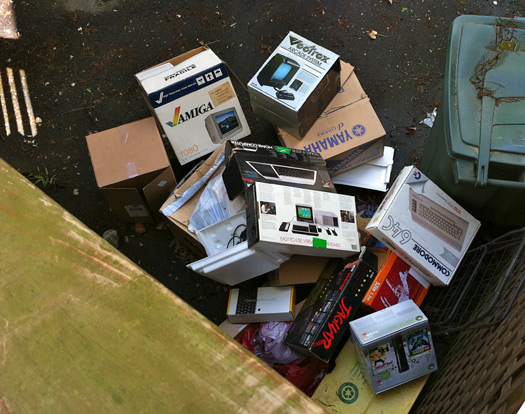 So, I let almost all of them go.
Is it with some sadness? Definitely. But, in a way, it feels good. After all, my computer room was already used as an example of grievous hoarding. Poor girl…