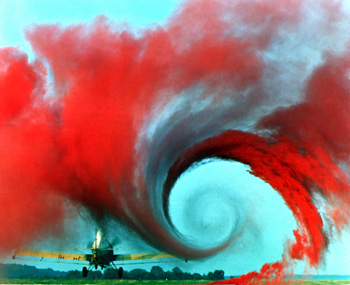 My father, James Claude Patterson Jr., died on April 26, 2010 — almost exactly one year ago. He was just shy of 83 years old.
Dad was a retired NASA engineer who worked for the government space agency for 35 years. (It was known as NACA when he started there.) He was an aeronautical engineer heavily focused on eliminating the induced drag that is wingtip vortex. He was involved in a number of high profile projects such as the X-15 experimental rocket plane, the supersonic transport (SST), the supercritical airfoil (on Dick Whitcomb's team, my father was the member who repeatedly adjusted the physical shaping of the wind tunnel models' auto body putty (mentioned in the previous link) during evenings at home in our garage, I well recall), the Whitcomb winglet, and the Wingtip Vortex Turbine.
After retiring from NASA, he continued his research for a number of years at NASA research firm ViGYAN, Inc.
Shortly before he died, he was invited back to NASA for a series of interviews about his life's work. I wanted to share a bit of this. The video that follows is a short clip of my father discussing wingtip vortex. Have a look.
Other videos can be found here.
In 2005 my father wanted to share some of his basic thoughts about wingtip vortex flow with a few of his post-NASA contacts, and I helped put his handwritten copy and sketches together into a digital document. Those interested can have a look at The Nature of the Wingtip Vortex Flow by James Claude Patterson.
Shortly after his death, I posted a Flickr photoset of images of and around him. Those interested can have a look.
I miss you, dad. Thanks for the science — and everything else.
UPDATE: NASA has, since, placed a nice profile of my father online, under their Langley Legacies historical project. It was very nice to discover this.