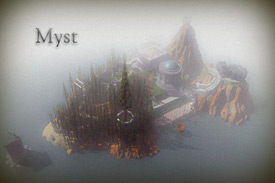 I apologize for the lack of posts of late. I've been focusing enormous energies towards Touch Arcade, the iPhone game review site that I run with Arnold Kim of MacRumors (and now Eli Hodapp). It's rather taxing work, given the traffic in the App Store. Apple recently saw the billionth iPhone app download and there's no sign of things slowing down. The Newton's gone, but it looks like, at present, Apple has the most compelling PDA on the market. Go figure.
One of the most recent and notable games we've seen hit the App Store is the iPhone port of Cyan's 1993 release, MYST. As regular readers are aware, I'm a huge MYST fan. I played and solved the game in 17 hours across a rainy Saturday and Sunday with my then-girlfriend, Molly. It was, and is, an amazing game. I consider it to be one of the five best games I've ever played.
MYST for the iPhone [App Store] is, well, MYST…for the iPhone. The touch interface in this version is great and I'm thrilled that a new generation of gamer will be more easily able to experience the magic that is MYST. Not long ago, I purchased the game for the PSP, but, of course, I never have it with me and so my efforts to relive the magic floundered. That is soon to be corrected, as I go nowhere without my iPhone (I feel truly naked without it) and will finally have the opportunity to again work through the game, here 15 years later.
See our Touch Arcade MYST gameplay video and release story.
If you have an iPhone or iPod touch and have or have not experienced this game, you owe it to yourself to pick it up. MYST is gaming excellence. Yesterday, and today.