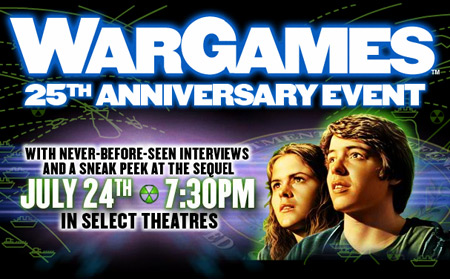 That's right! It's been 25 years since we sat in that theater and saw John Badham's "geek's wet dream" masterpiece WarGames on the big screen. A quarter of a century. I was 11 years old. And even though I'd had my first computer for about half a year at that point, it was primarily responsible for permanently burning into my brain a boundless, lifelong lust for computer hardware. It solidified me as a geek, and for that I thank it. And as you may be suspecting…I'm not the only one who drank the Kool-Aid…
And the best part? We've all got one more chance–one single chance–to be a kid again, sitting there in awe before the silver screen. On July 24th at 7:30pm in theaters all around the country, WarGames will be projected upon the silver screen once more. Tickets are on sale now at the event site. (I've got mine!) What a splendid night it will be. It's kind of like Christmas, really.
The event runs for 2 hours, 20 minutes and includes the geek classic WarGames along with previously unseen interviews and a preview for…get ready…the forthcoming sequel to WarGames, WarGames: The Dead Code. Only today did I learn of this sequel. And it excites me. Though it's a direct-to-DVD release. And it looks fairly lame. But hey–who are we kidding? We'll all own it.
I'm pleased to be able to share this info that I happily stumbled upon in the Twitterverse. Don't miss your chance to relive the dream. And for those geeks who've yet to experience this wonderful piece of cinema: thank all the powers in the universe that you can enjoy it for the first time as God intended.
And for a really nice WarGames treat, have a look at this most interesting story [update: via Wayback Machine] of the IMSAI 8080 used as the prop for David Lightman's home computer setup. It's a great read.