As I start this post the Steve Jobs' Macworld San Francisco 2008 keynote is just four minutes away. And sadly I could not make the trip this year. My trip out there for last year's keynote, working coverage with Arn for MacRumors, was some of the most fun I've had in my life, but it ultimately just wasn't in the cards for this year.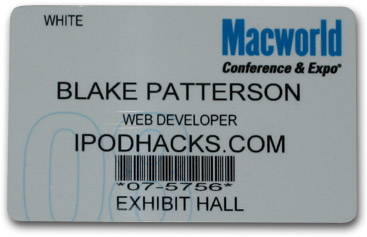 To ease the pain, I've taken the day off work and am sitting here watching the
MacRumors Live
coverage with my Macworld ID badge sitting next to my MacBook Pro. It's still a festive day, though. I'm anxious to see what Steve has in store for us.
Happy Macworld 2008 everybody!