I'm a die-hard Apple fan, but I must say I've had a run of bad Apple luck in the past month. My Mac Pro's ATI X1900 XT video card began to fail due to overheating. (The Apple Store at least took 1/2 off the price of a replacement – out of warranty.) My MacBook Pro is occasionally reporting -128 deg. C from the GPU heatsink (hmmmm…) and my iPhone had a little ear-speaker glitch. Oh yes – and my 4 year old 20-inch Apple Cinema Display just died.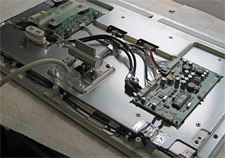 My G5 used to sport dual 20-inch ACDs. When I replaced them with a 30-inch ACD, I took one in to the office and began using it as my primary work display. A nice improvement over my Dell 19-inch CRT. Well, the other day, upon arrival at my office, I was greeted with a dim upper-half of the display along with a blinking power LED (short-short-long), indicating a bad backlight inverter board. Bum luck.
A bit of Googling showed me that I could grab a replacement board for $125 and fix the issue with a little rolling up of the sleeves. This is what I did and, indeed, I'm now back in business. I thought I'd share the photo gallery documenting the swap-out. If you find yourself in the same boat, I hope these photos help.