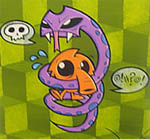 What could be finer than an 8-bit video game art show? Little, as can be seen in the pictorial posted at Fort90 of just such a phenomenon. Artistic homages to Pac-Man, Mario, Q*Bert, Dig Dug — the list goes on, can be found within. Oil, water color, sculpture — there's some truly inspired works on display. The apparently functional, super-sized NES controller is pretty slick, as well.
Not sure which piece is my favorite.
UPDATE: As one of my readers pointed out, a book exists with art from this show, entitled i am 8-bit: Art Inspired by Classic Videogames of the '80s
. Have a look.