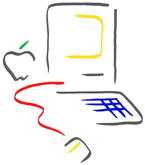 I was lucky enough to come across a vintage Macintosh "Picasso" poster at RedLightRunner a couple of weeks back, which I now have framed and happily adorning the wall of my basement computer room. This is one of two vintage Apple posters that I consider to be extraordinary finds, the other being a poster of the transparent Macintosh illustration from the original Macintosh sales brochure (the only one I've seen went on eBay for $300 about 4 months ago).
The "Picasso logo," created by Tom Hughes and John Casado, Apple saw as the embodiment of what the Mactintosh offered consumers: a vision of style, subtlety, and frendliness that was a marked departure from any other computing experience available to users at the time. Apple, unlike any of its peers, felt that the users' first impression of the machine, which would be formed as he or she eagerly opened up the box and began to look inside, was a critical moment. An imprinting. As such, great care and thought was put into the arrangement and design of the packages within—logo placement, use of color, shape, texture, orientation, etc. The result, the overall packaging of the Macintosh [PDF] really was a collective work of art. This aspect of the user experience is more widely appreciated by manufacturers today, but Apple is still unmatched when it comes to truly delviering on this front, and the fact that they "got it" so long ago—20 years now, is very telling.
The logo for another another of my sites, iPod Hacks (Update: long gone, now), was fully inspired by the Picasso logo.